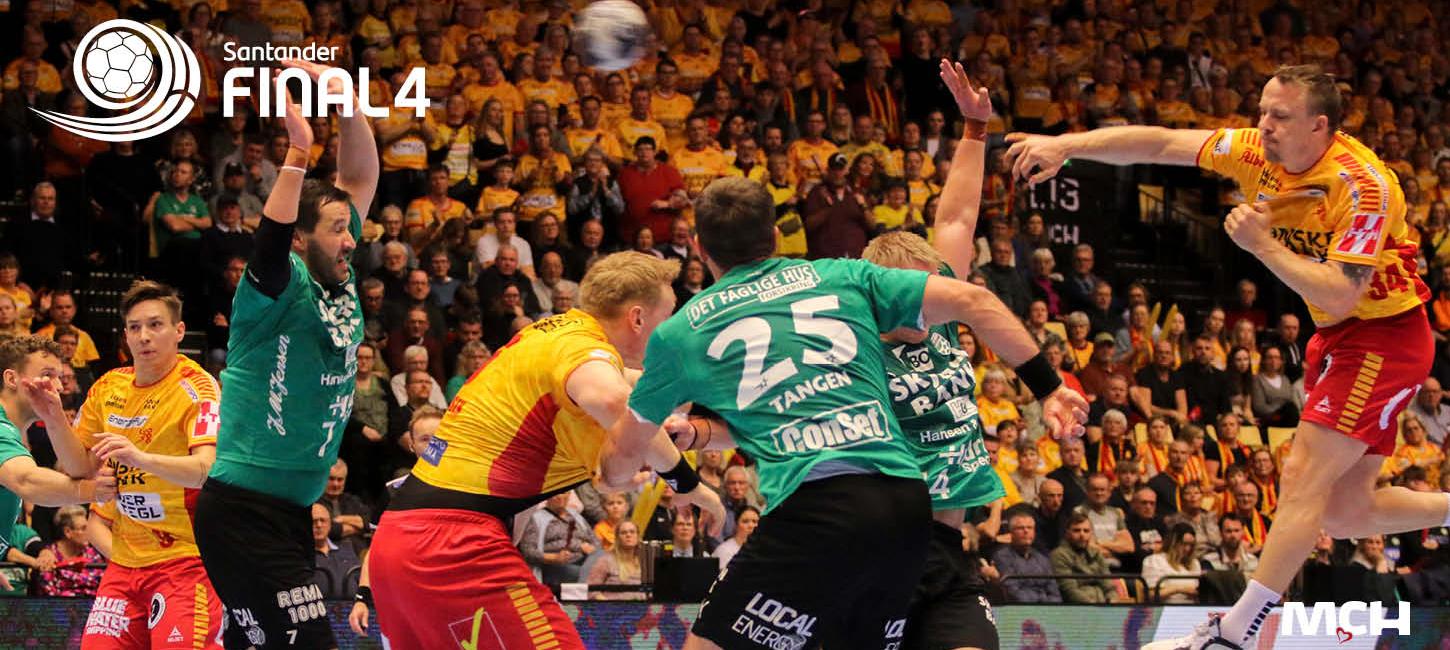 Santander Final4 Men
Saturday 17 February - Sunday 18 February 2024.
Join us for a blast of a handball event when the Santander Final4 event has its 10 years anniversary - ticket sales have started.
Santander Final4 for men - the year's biggest handball event - returns on the 17 - 18 February in a 10-year anniversary edition in Jyske Bank Boxen.
On the iconic handball scene in Herning, an audience record was set for Santander Final4 in February 2023, when GOG could lift the cup trophy after victory over Skjern Handball in a sweeping final.
This year, the event is expected to be even bigger
PROGRAM
Saturday 17 February 2024
At 11.30 am - The arrival hall opens
At 12.00 pm - The doors to Jyske Bank Boxen opens
At 13.30 pm - Semi-final 1
At 16.00 pm - Semi-final 2
Sunday 18 February 2024
At 11.30 am - The arrival hall opens
At 12.00 pm - The doors to Jyske Bank Boxen opens
At 13.30 pm - 3rd / 4th place match
At 15.50 pm - Final show
At 16.00 pm - Final, medal presentation
Arrive in good time and visit Santander's fan zone and the large street food area.
DINING
Street food can be purchased at Santander Final4, where several food trucks offer various food and drinks. The street food area, which is located in the arrivals building, also offers drinks and can be accessed throughout the day. The area closes when the last match starts.
Various drinks and fast food can be bought in the stalls in Jyske Bank Boxen itself.
Bringing food and drinks is not allowed.
ORGANIZER
Divisional Association Handball
WEBSITE
Tophaandbold.dk
PLACE
Jyske Bank Boxen
Kaj Zartows Vej 7
7400 Herning
BUS
Bus no. 6 drives from Herning Station to MCH Messecenter Herning/Jyske Bank Boxen according to a fixed timetable before and after the matches.
The bus timetables can be found at midttrafik.dk
The bus drives according to the usual price.
CAB
Herning Taxi can be ordered on tel.: 9712 0777
Welcome to Herning
We are looking forward to receiving all the happy handball fans, that visits us in Herning.
Explore the city before or after the matches and discover, what we have to offer in terms of restaurants, shops, and accommodations.
VisitHerning Explore
Do you have an hour or two? Download the app VisitHerning Explore – then you will be ready to explore the area. The app guides you to nature-, history-, and art experiences and also to good deals near you, in Herning and Ikast-Brande.