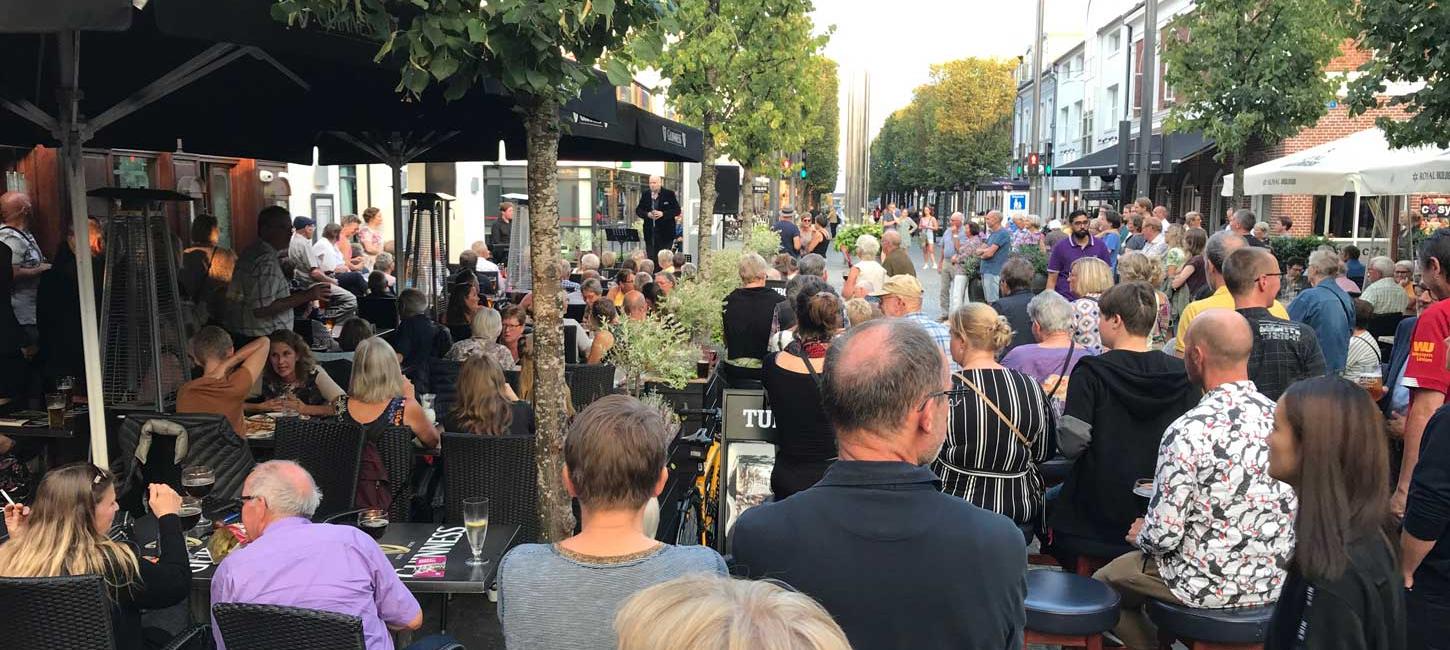 Dataprotection
Dataprotection for VisitHerning
For VisitHerning trust is a keyword. Therefore, we are also careful when we process data about you. Below you can see how we process data.
We collect and store different types of information, depending on what collaboration we have with each other. You may be a member of our association, customer in our booking portal or attending a conference or trade fair.
How do we collect information?
In general, we collect and use your information to deliver the service we have agreed upon. In addition, we collect statistical information that we use to improve our service, communication and marketing. We get information when you give them to us - or you are part of a group that is handled together by a third party. When you use our website, apps and social media, we collect data that you can read more about in our cookie policy below.
Who do we share the information with?
If you become a VisitHerning member, we will show you a selection of information about you on our website and in other marketing materials. If you are a customer in our booking portal or in our booking department, we will share the information with the partners involved in delivering the agreed service to you. That could be for instance conference facilities, hotels, bus services and more.
We use a number of subcontractors to provide the necessary service to you. We have a data-processing agreement with the subcontractors with which they commit to complying with current legislation - also in the field of personal data protection.
You own your data - we delete them
You are entitled to access the information we have about you. We make sure your information is protected. We keep your data as long as necessary to deliver the agreed service or meet legal requirements where we are required to store the information. Contact us If you have questions, please feel free to contact us at mail@visithing.com or 9627 2222.
Guide lines for visitherning.com
• Visitherning.com is developed and tested for the Windows and Macintosh platforms.
• Visitherning.com has been tested for Microsoft Explorer, Google Chome, Safari, Firefox and Opera.
• Visitherning.com is optimized to work with a screen resolution of 1280x1024 or higher.
Visitherning.com exists in the following language versions:
• Danish
• English
GuideDanmark and TouristOnline A/S exist in two language versions:
• Danish
• English
• Visitherning.com is equipped with alternative (alt) text for all buttons, images and graphics.
• All pages containing information can be printed in a reading friendly format.
• When choosing colours for texts we try to obtain the best legibility with pronouncial contrast.
• HTML and CSS has been validated against the W3C-standards.
• We aim to continue the user friendly format.
Disclaimer and Privacy Statement
Access to and use of this site are provided by VisitHerning and are subject to the following Terms and Conditions.
Use of this site constitutes your acceptance of these Terms and Conditions which take effect when you first use this site. VisitHerning reserves the right to change these terms and conditions at any time by posting changes online. You are responsible for reviewing regularly information posted online to obtain timely notice of such changes. Your continued use of this site after changes are posted constitutes your acceptance of this agreement as modified by the posted changes.
Whilst VisitHerning endeavours to ensure that this site is normally available 24 hours a day, VisitHerning will not be liable if for any reason the site is unavailable at any time or for any period.
Access to this site may be suspended temporarily or permanently and without notice.
Whilst VisitHerning and any content provider such as local tourist agencies endeavour to ensure that the information on this site is correct, no warranty, express or implied, is given as to its accuracy and neither VisitHerning nor any such other content provider accept any liability for errors or omissions. Information on this website may contain inaccuracies or typographical errors. Information may be changed or updated without notice. This website does not constitute an offer or contract, however links to other sites which may include offers or contracts. Price and availability of information is subject to changes without notice.
Part of this site contains materials and information submitted to VisitHerning by third parties. Third parties are responsible for ensuring that materials and information submitted directly or indirectly for inclusion on this site complies with national and relevant foreign law. VisitHerning cannot guarantee the accuracy of this material and hereby expressly disclaims any responsibility for errors, omissions or inaccuracies in the material, misinterpretation and any loss, disappointment, negligence or damage caused by reliance on the material contained on this site or any failure or alleged failure in the delivery of the services referred to herein, or in event of the bankruptcy, liquidation or cessation of trade of any company, individual or firm referred to herein. Confirmation of the accuracy and currency of the information should be sought from the establishments concerned. A booking system delivered by TouristOnline A/S is integrated as part of the portal on VisitHerning.com. TouristOnline A/S is an independent company, and VisitHerning cannot be made responsible for the use of the booking system or any consequences of such use. Reference is made to TouristOnline A/S disclaimer.
Most of the illustrative material, artwork, photographs and texts etc. made available from this site is made available by independent local companies and by the organizers of events. Other photographs, illustrations etc. is made available by photographers through DenmarkMediaCenter. All providers of material to VisitHerning.com, including sub-pages, have declared to VisitHerning that the material does not infringe third parties rights but you cannot rely on this in any way. Some material is made available by others, including users of VisitHerning.com, who also have declared that any of their published material does not infringe third parties rights. You cannot in any way rely on this either. The material is protected by Danish and International legislation regarding intellectual property rights law and may not be copied or reproduced in any way, without permission from VisitHerning. Permission to use material found on this website may be obtained by contacting VisitHerning in order to receive written consent.
Any communication or material you post or transmit to VisitHerning over the Internet is governed by the specific rules listed in the Privacy Statement.
VisitHerning shall not be liable for any damages (including, without limitation, damages for loss of business or loss of profits) arising in contract, tort or otherwise from the use of or inability to use this site, or any material contained in it, or from any action or decision taken as a result of using this site or any such material.
Further, VisitHerning accepts no responsibility for the content of any site to which a hyper-text link from this site exists. The linked sites are not under the control of VisitHerning and VisitHerning is not responsible for the contents of any linked sites or any link contained in a linked site or any changes or updates to such sites. Such links are provided for your convenience on an "as is" basis with no warranty, express or implied, for the information provided within them. This also includes links to independent local tourist agencies. These local tourist agencies have the possibility and right to make their own adjustments on their websites.
If any of these terms should be determined to be illegal, invalid or otherwise unenforceable by reason of the laws of any state or country in which these terms are intended to be effective, then to the extent and within the jurisdiction in which that term is illegal, invalid or enforceable, it shall be severed and deleted from the clause concerned and the remaining terms and conditions shall survive, remain in full force and effect and continue to be binding and enforceable.
These Terms and Conditions shall be governed by and construed in accordance with Danish law. Any legal action or proceeding for any purpose concerning these Terms and Conditions or the parties' obligations hereunder shall be brought exclusively before Copenhagen City Court as court of first instance.
VisitHerning is not liable for any misprints as to price or information and reserves the right to correct any of the mentioned without notice.
Privacy Statement
We are committed to your right to privacy
VisitHerning respects your right to privacy. We have developed this Privacy Statement to inform you about our practices. Please direct questions regarding this Privacy Statement to info@visith.... By accessing www.visithe... and by using the services provided on this website, the user hereby accepts VisitHerning's privacy policy.
Overview
Privacy is a concern to most Internet users. VisitHerning is aware of, and sensitive to, the privacy concerns of our customers. If you are registering to use the site you will be asked to provide certain information. We are asking for this information solely for the purpose of providing the best service possible. Be assured that we do not share or sell personal information about our customers or site visitors to third parties.
VisitHerning collects information about users in three ways:
Traffic data
By use of cookies
Information provided by you
Traffic Data
Each time a visitor enters VisitHerning.com; information is collected about your domain name / IP address, referring URL, browser and platform, time of visit, pages visited and searches performed. Aggregated traffic data may be shared with potential advertisers, research firms, and business partners for demographic purposes. When used in this aggregated form no one will be able to identify or contact you.
Use of Cookies
A "cookie" is a piece of information that our website sends to your browser, which then stores this information on your system. A cookie allows our website to "remember" information about your preferences either until you exit your current browser window (if the cookie is temporary) or until you disable or delete the cookie. Many users prefer to use cookies to help them navigate a website as seamlessly as possible. Cookies are also used for the purpose of evaluating your use of the website, compiling reports on website activity for website operators and providing other services relating to website activity and internet usage. VisitHerning may also transfer this information to third parties where required to do so by law, or where such third parties process the information on VisitHerning's behalf.
Use of pixel tracking (non-personal data)
VisitHerning occasionally uses pixel tracking. Pixel tracking entails that your visit to VisitHerning.com or a partner-website is registered in connection with, eg, statistical surveys. Pixel tracking is anonymous and no personal data will be collected by the pixel. Only anonymized data regarding the navigation on VisitHerning-sites or to- and from VisitHerning-sites to partnersites are registered for statistical purposes. VisitHerning uses cookies in connection with the following:
1. General session control on VisitHerning.com, hereunder in connection with language version control.
2. Collection of user statistics.
3. General session control in connection with online booking on the booking system integrated with TouristOnline A/S or other partner-websites (eg by way of pixel tracking).
You should be aware that cookies contain no more information than you accept, and they are not able to "invade" your hard drive and return to the sender with personal or other information from your computer. You may refuse the use of cookies by selecting the appropriate settings on your browser, however please note that if you do this you may not be able to use the full functionality of this website. As mentioned above, by using this website, you consent to the processing of data about you by VisitHerning in the manner and for the purposes set out above. Information provided by you.
In general, VisitHerning only collects personal information when you register for a newsletter, sms-service, order brochures or participate in competitions in order to provide you with the service ordered.
Sending You Responses and Updates
We generally respond to any e-mail questions, requests for service or information, and other inquiries we receive. We may also retain this correspondence to improve our services and website.
Surveys
From time-to-time we may request information via surveys. Participation in these surveys is completely voluntary and you always have a choice whether or not to disclose this information. Survey information will be used to monitor or improve this website, and to improve our customer service.
Privacy Policy Enforcement
If you feel that VisitHerning is violating this Privacy Statement, please contact us at mail@visitherning.com Apart from information necessary for sending out the newsletter and the sms-service any collected information is stored for no longer than necessary and in any case for a maximum of 3 months. If you wish to know which information is currently stored regarding you, simply contact VisitHerning by sending an e-mail to mail@visitherning.com