Did you know...?
- that the total outdoor area around MCH Messecenter Herning measures 400,000 m2, which is the same as 56 football pitches?
Guide for your visit in MCH
MCH is the largest entertainment centre in Scandinavia and since 1954 it has organised a world of experiences. MCH consists of four locations: Jyske Bank Boxen, MCH Messecenter Herning and MCH Arena, which are located Southwest of Herning city, and MCH Herning Kongrescenter.
CAR
Jyske Bank Boxen, MCH Messecenter Herning and MCH Arena are located at motorway connections to Vejle, Silkeborg, Aarhus, Viborg and Holstebro, and the city of Herning. Take exit 41 or 42 if you are arriving from the motorway. There is always unlimited, free parking with more than 10,000 parking spaces. 
TRAIN
Get off at MCH Messecenter Herning Station and follow the footpath.  
BUS
At www.rejseplanen.dk you can see when the city buses are going to and from the centre of Herning. There will be extra buses for large events. 
BY CAR
MCH Herning Kongrescenter is centrally located, meaning it's easy to get to from the city by car. Danmarksgade, Smedegade and Kousgaards Plads offer the closest parking spaces. Get an overview of free parking spaces at www.herningcity.dk/parkering
It is free to park in public parking spaces and in several parking garages with long-term parking. You can read more about
TRAIN OR BUS
Herning Station (the central station) is located a few minutes' walk from the congress centre.
Address
Kaj Zartows Vej
7400
Coordinates
Longitude: 8.951121
Latitude: 56.118165
Map of MCH Messecenter Herning, Jyske Bank Boxen and MCH Arena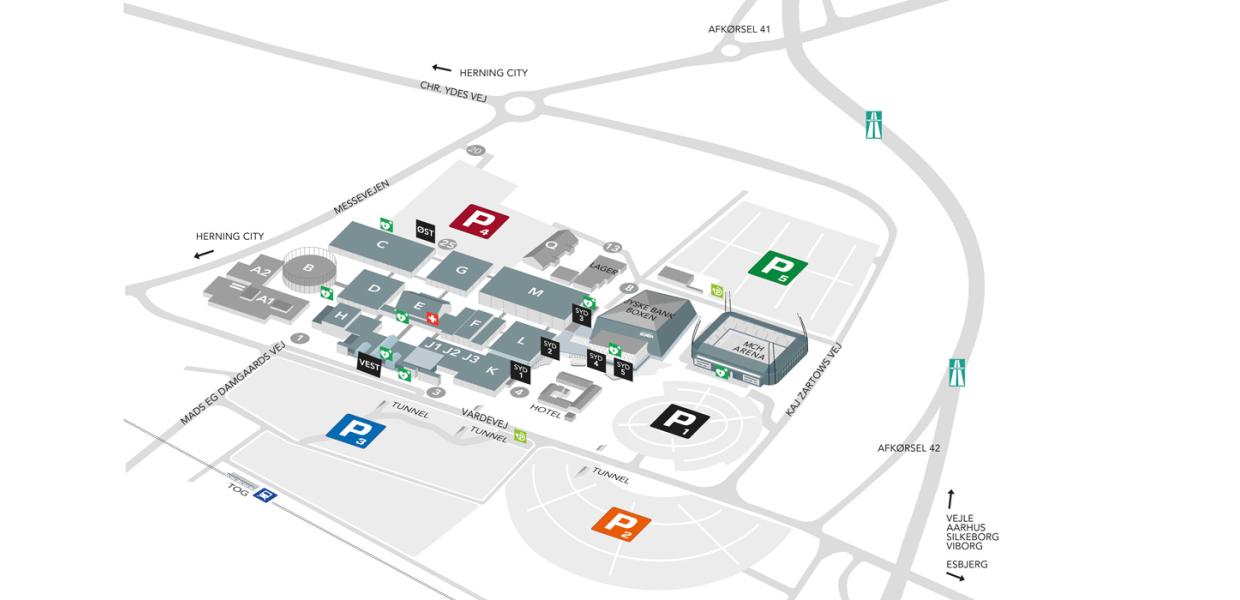 Photo:MCH
Shuttle buses
Extra buses will be going from the central train station and to MCH for the large concerts and events in MCH Messecenter Herning and Jyske Bank Boxen. The extra buses will be scheduled for before and after the event. Check out the event to see if there are shuttle buses for the specific event that you are going to.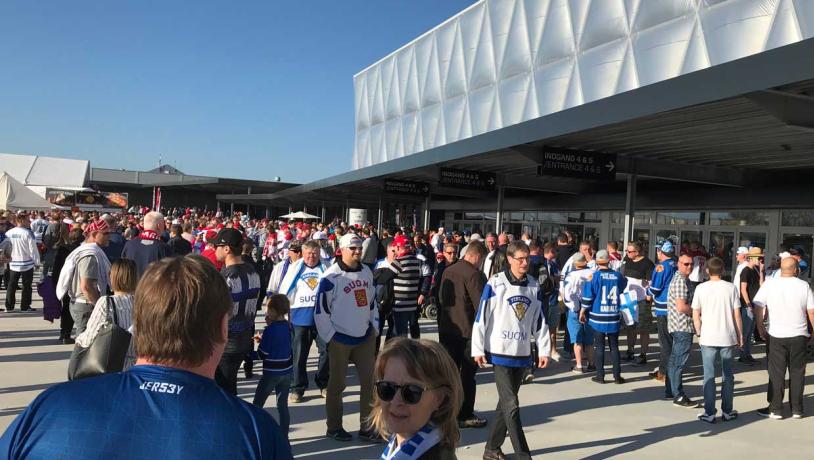 Photo:Jannie Nyegaard
A great party and atmosphere outside Jyske Bank Boxen.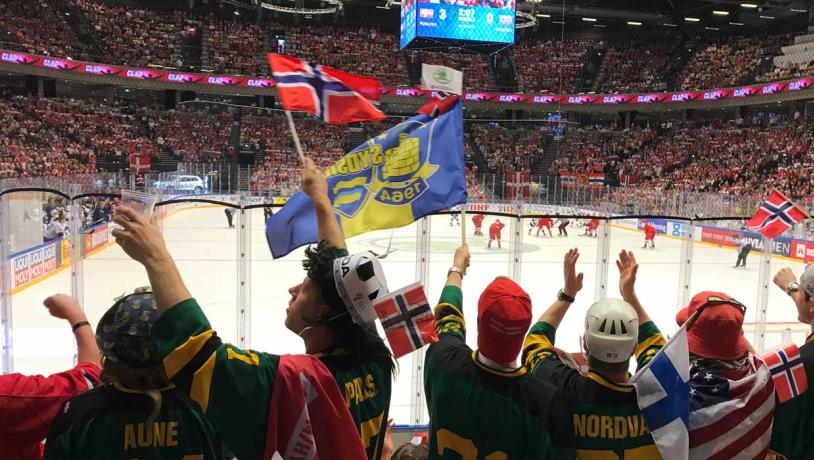 Photo:Jannie Nyegaard
A fantastic atmosphere in Jyske Bank Boxen during matches.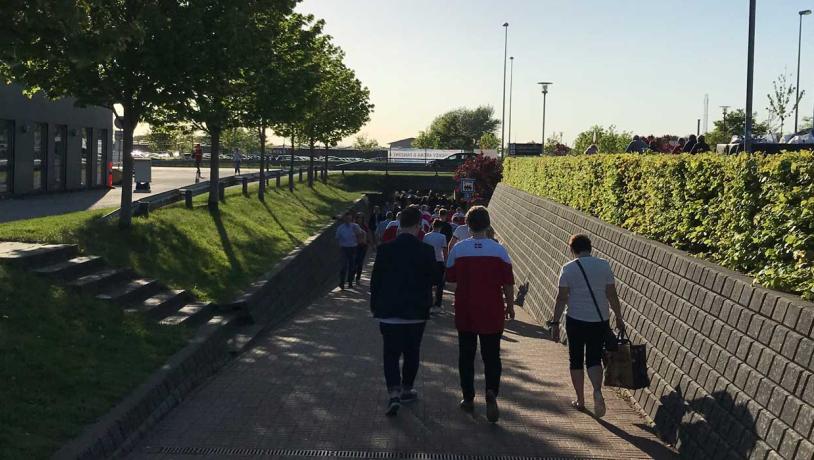 Photo:Jannie Nyegaard
Safely home after a party in Jyske Bank Boxen.
From industry to experience industry
In 1953, the first step was taken towards MCH as we know it today. And with this step, Herning started its journey from industry to experience industry. MCH and Herning have become synonyms for experiences for both citizens and guests.
It all started when the "Herning Hallen" sports arena was inaugurated in 1954. Today, that arena is known as MCH Herning Kongrescenter. Not surprisingly, the first event at the location was the Danish Textile Fair. There was a high demand for the new arena, which is why in 1963 they had five new 10,000 m² halls ready to host the first Crafts and Industry Fair in Herning. The fair, now known as "HI Industrimesse", is one of the largest of its kind in Scandinavia today.
Today, the MCH group has expanded to MCH Messecenter Herning, MCH Herning Kongrescenter, MCH Arena and Jyske Bank BOXEN. These 4 venues provide the citizens of Herning and guests with an abundance of experiences, whether they be music events, fairs, congresses and conferences, meetings or sporting events. "The DNA of Herning is of great significance to MCH. We are proud to help continue the city's service spirit. We want to be good hosts for the city's guests, whatever their reason for visiting the city," explains Georg Sørensen, CEO of MCH. Together with the rest of the players in the city, MCH makes sure to give the guests of Herning a fantastic all-round experience. Because it all counts, everything from the transport, to the restaurant experience, accommodation, shopping, etc. "It is a joint effort, we have to work together," Georg Sørensen goes on to say.
In 2000, MCH presented Vision 2025, an ambitious, long-term plan for the future expansion of MCH. Among other things, the vision includes a multi-functional arena, stadium, business park, drive-in cinema, adventure park and cable car. "MCH has and will continue to contribute to the offer of diverse opportunities for people living or visiting Herning," Georg Sørensen states. "Vision 2025 has already proven its worth. Several things have been executed, like the motorway, hall M, (which is Denmark's largest pillar-free hall), and Jyske bank BOXEN, (which is Denmark's national indoor arena)."
And it doesn't stop there. Both MCH and Herning will work tirelessly to make the city's offers for citizens and visitors even more adventurous. "The future is looking bright for MCH and Herning. We are a fantastic city, where anything is possible. We have a large circle of passionate people who know how to pitch in and work hard; people from associations, businesses, politics and our citizens themselves" Georg Sørensen says with a smile.