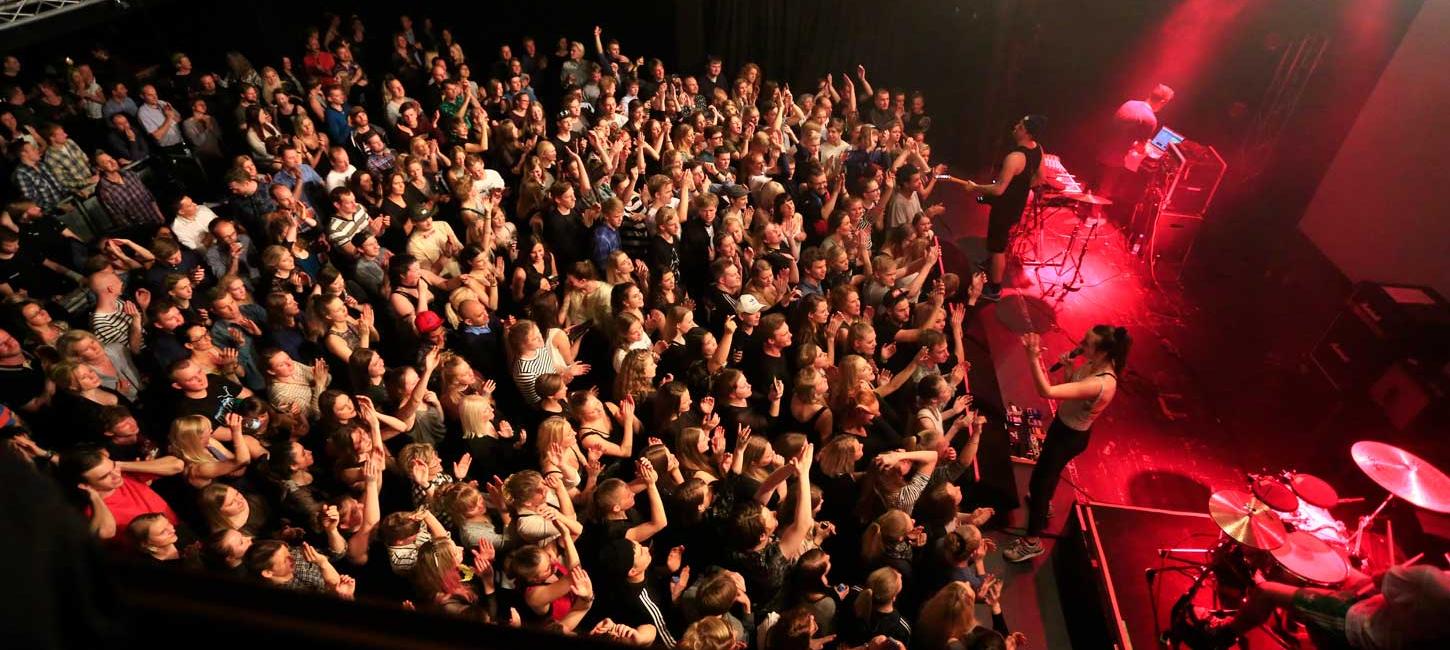 Feel the concert rush
Photo:
Flemming Scully, Herning Fotoklub
There are always concerts to attend in Herning! And you can choose from all genres, so both serious music lovers and party-loving concert-goers can have a cool music experience.
"I think there is only one other city in Denmark that has such a broad array of stages. And that is the capital city – purely because they are the only two cities with a multi-arena," Henrik Øster-Jørgensen says. He is a cultural journalist and a seasoned concert-goer, so he knows what he is talking about.
"You can go to intimate concerts at "Ungdomshuset Kontrast" with just 49 other people, or you can experience the rush from, say, seeing the band Nephew at Jyske Bank Boxen in a crowd of 14,999 other fans. Herning has everything," he says.
Many associate Herning with big concerts, but the city has many stages that set the scene for all kinds of different genres and artists. From classical solo concerts with soul and intensity to the more catchy, sing-along vibe of both up-and-coming and established bands. Then, of course, there are the breath-taking mega shows from the world's largest music artists, complete with impressive light effects, stage dancers and fog cannons to match even the greatest shows.
Plenty of room for niches
"In the course of one week in Herning, you can experience jazz, folk, pop, electronica and nearly anything else the heart might desire," Henrik Øster-Jørgensen says. "And it is not just modern music; the selection of choir music and top classical music on offer is also pretty impressive. Performances from The Herning Church Boys' Choir, MidtVest Girls' Choir and Ensemble MidtVest mean there is something for every taste."
Among the smaller stages is "Ungdomshuset Kontrast" which hosts concerts for smaller audiences. The largest stage is Jyske Bank Boxen, where 15,000 people can sing along to the same song. And every now and then, there are concerts at places like Scene7, Fermaten and MCH Herning Kongrescenter, which can host crowds from 150 people to a couple of thousand.
"When it comes to the modern part, then Herning's venues can do it all. A good example is Lukas Graham, who gave their first concert in Herning at "Fermaten". Their next concert was at the congress centre and when they come back again, they will perform in Jyske Bank Boxen", Henrik Øster-Jørgensen says and he continues: "Or how about Volbeat? At first, they played for a dozen people at what was then called "Imperiet", then later on they moved up to a packed room in "Huset No7", and more recently they were at "Boxen". Herning has room for the very newest talents, and there is stage capacity enough to follow them all the way to megastar status."
"When you are with your buddies and look each other in the eye with disbelief over how amazing the concert is, then it is all worth it."
It's about the feeling
Whatever the size of the stage, the genre of the music or the popularity of the artists, most people attend concerts to feel that buzz and be part of the intense atmosphere that fills the room at a truly great concert.
"I think that almost everybody goes to concerts from time to time. Some might settle for one concert a year, maybe when the big names like Roger Waters visit Jyske Bank Boxen. While others attend concerts on a weekly basis at the smaller stages," Henrik Øster-Jørgensen says. He has a record of attending over 1000 concerts, and even now he can still be blown away and feel that concert rush.
"Having attended around a thousand concerts, it takes a lot to blow me away. It probably only happens once a year. The last time I was blown away in Herning, was at a concert by Kellermensch from Esbjerg who played at Fermaten. When you are with your buddies and look each other in the eye with disbelief over how amazing the concert is, then it is all worth it. Maybe it's a sort of addiction? You want to feel that rush again."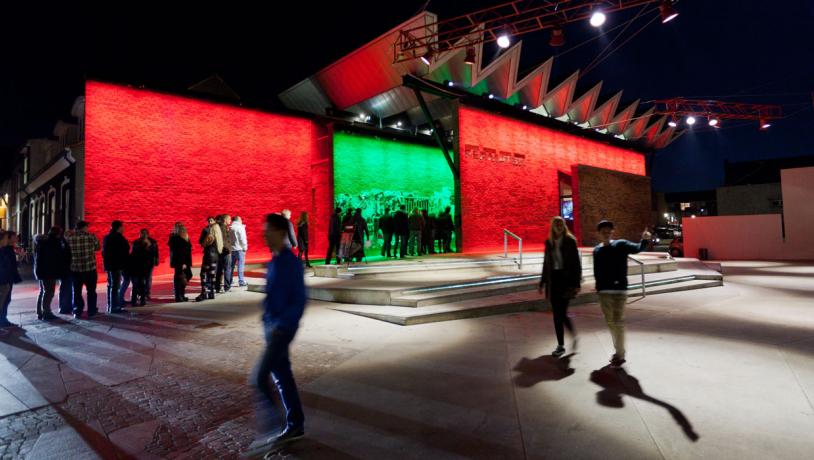 Photo:Theis Poulsen
Volunteers make it happen
Several of the concerts and events which you can experience in Herning are entirely or partly run by volunteers. Many of the employees at "Fermaten" are volunteers. The venue has a total of around 100 employees organising the events: bar and cloakroom staff, technicians, stage people, photographers and a caretaker team. The venue's board is also made up of volunteers. Likewise, many volunteers and friendly people of Herning also help ensure that everything falls into place when things in Herning ramp up for a sporting event like the Giro d´Italia or the Ice Hockey World Championship.