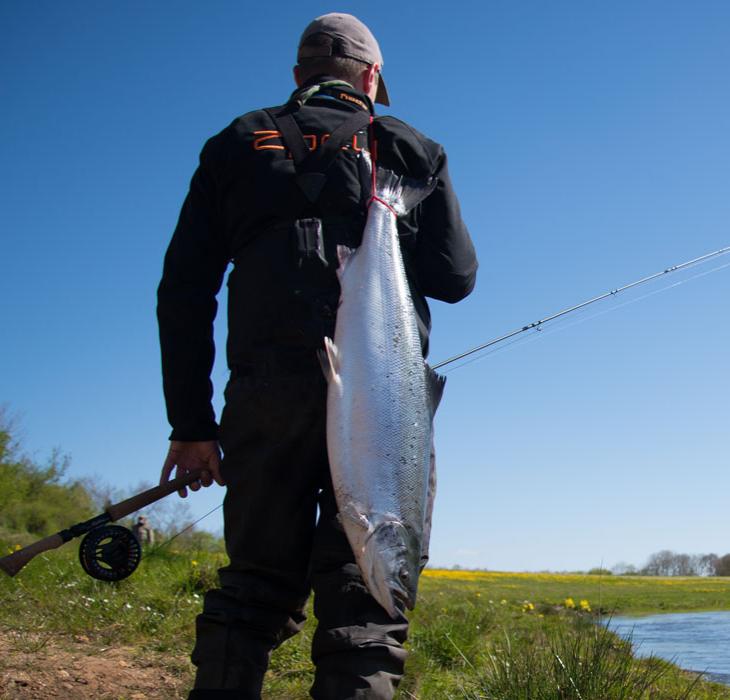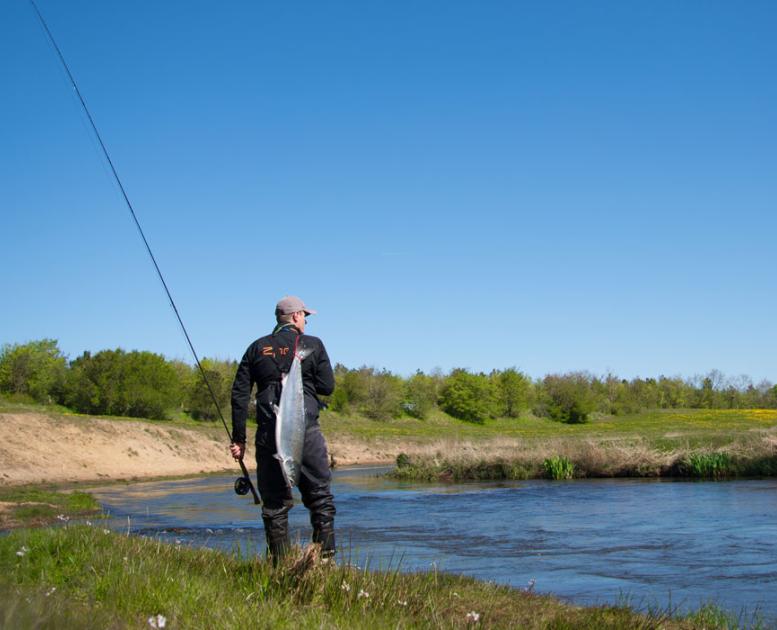 Your salmon adventure starts here
Photo:
Nikolaj Korsholm
&
Nikolaj Korsholm
Skjern Å (River Skjern)
The salmon found in the River Skjern is the original wild native species. The area around the River Skjern offers unique outdoor experiences and exciting activities. The river boasts Denmark's best salmon waters, and anglers can enjoy unparalleled opportunities to catch the famous "River Skjern salmon", found in the stream since the last ice age 10,000 years ago. The stream has been enjoying some of its highest water levels, and along with the impressive landscapes of the valley and the captivating local stories, this makes the River Skjern the place to go for world-class experiences.
The season opens on April 16th and closes in October.
A record catch!
In 2018, there were a record number of salmon caught in the River Skjern. A total of 1,748 salmon were caught, with an average weight of 4.9kg.
Visit the website riverfisher.dk and get advice and useful information about fishing for salmon in the River Skjern. You can find helpful links about fishing rules, equipment recommendations, guidance on the salmon quota, and how to get started with fishing in the River Skjern. 
Rules and local guidelines
The River Skjern Association – fishing regulations
You must pay for your salmon licence, fishing map and fishing permit before you begin fishing. A salmon licence can only be obtained by people aged 18 and over. A mandatory fishing permit can only be obtained by people between 18 and 65 years of age.
You can read more about fishing rules, good tips and tricks on the River Skjern Association website.
Salmon fever around the River Skjern
Every year, fishing enthusiasts from all over Northern Europe travel to the streams around Herning to get a unique experience in the great outdoors and to go in search of the perfect catch.
Kenny Frost is one of those fishing enthusiasts. Early in the morning during the salmon season, which runs from 16th April to 15th October, he can often be found somewhere along the River Skjern with his fishing rod in hand. You may also find his seven colleagues from the Danish Centre for Wild Salmon, who are all passionate anglers. Read the article.
Opening-Day Salmon contest
The annual fishery opening event, which is held on 16th April, brings many anglers to Herning from far and wide. The main attraction of the event is the opening contest, which sees anglers compete to catch the largest salmon in the river. The winner is then given the honour of placing a large rock in the river. The rock creates a stand for salmon-fishing which, apart from becoming a known fishing spot, will also be named after the winner.