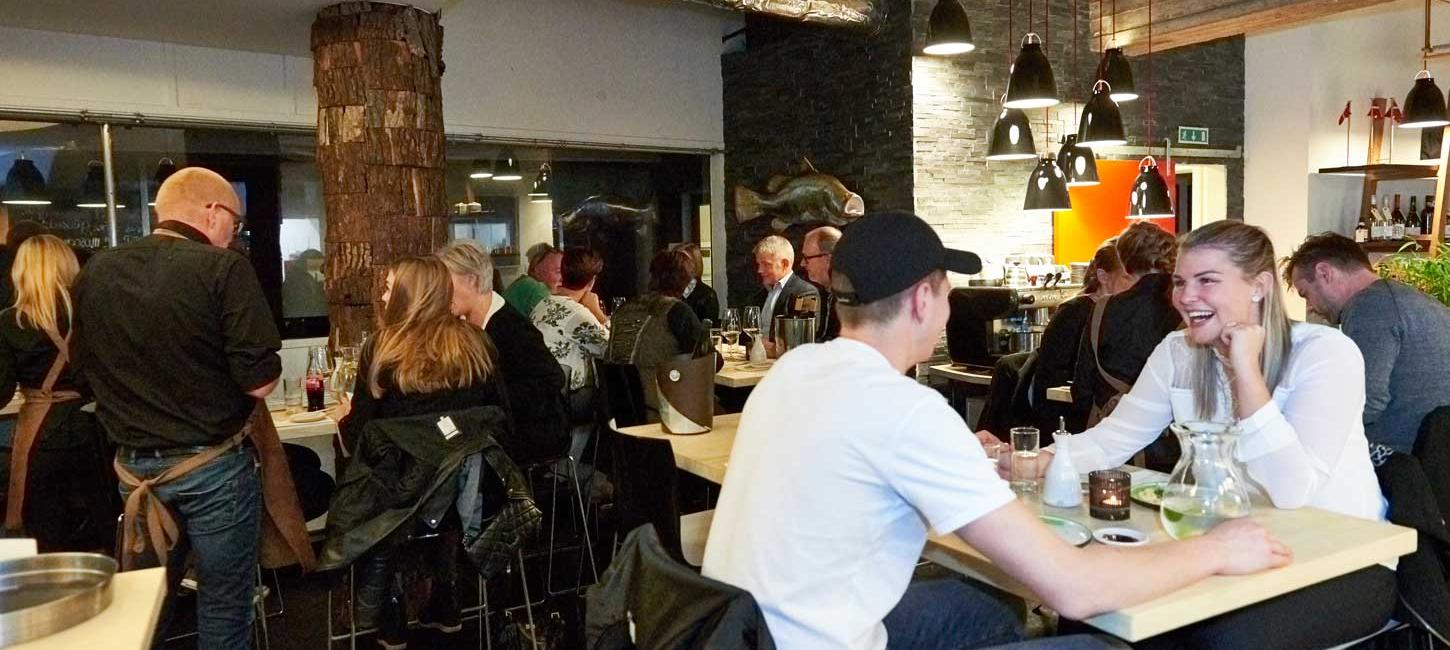 Yutaka
This stylish Japanese restaurant serves beautifully presented sushi that will make your mouth water
It is a very special feeling, dining from on high. At Yutaka the guests sit at 110cm-high, stylish tables; the décor is Nordic, light and inviting. You really get a feel for the modern metropolis and the relaxed Herning attitude. Even though it is not the type of décor that you see a lot of, it still works very well. It's not only the décor that is different; the food stands out too. It is served all at once on large platters in the middle of the table; inviting and stunningly presented.
Jens Peder Damgaard Jensen, one of the owners of Yutaka Spisehus and takeaway, says: "We put a lot of energy into the presentation of our food. It has to appeal as much to the eyes as it does to the stomach".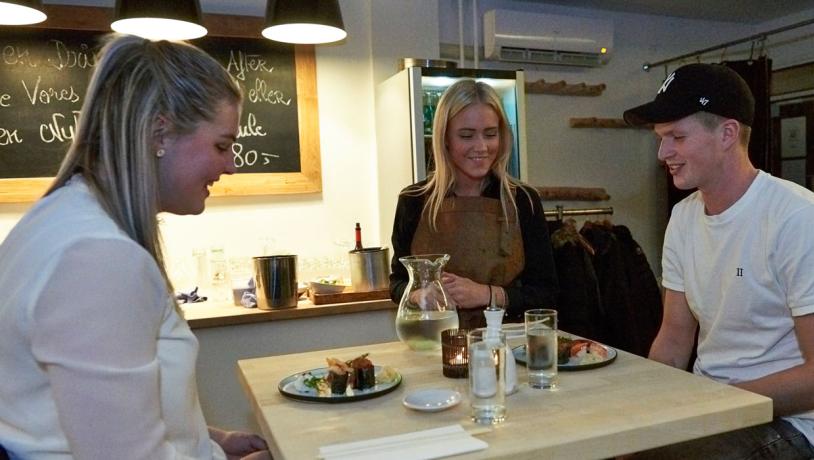 Photo:VisitHerning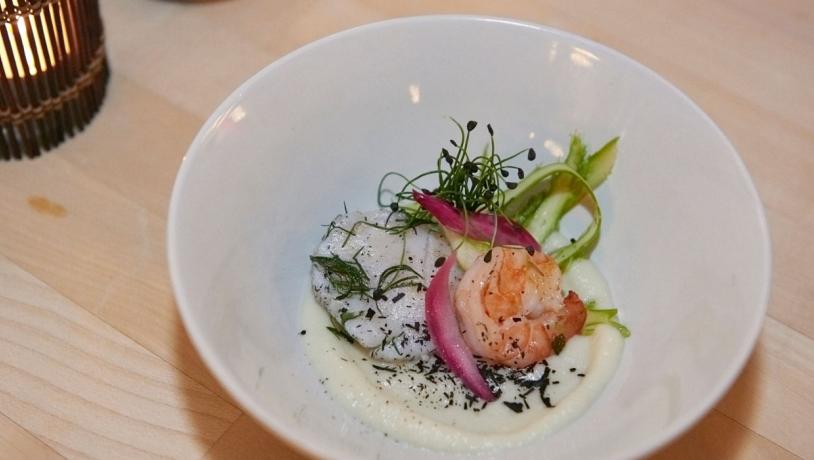 Photo:VisitHerning
For everybody - even the fish sceptics among you 
The unusual décor and the beautifully presented food attracts a mixed group of diners. There are teenage girls who just want a light sushi dish and a pitcher of water, family gatherings where even the burliest of Jutland men leave with full stomachs, and then there are business parties with guests from Denmark and abroad who order good wine and the biggest spreads. It all makes for a lively atmosphere in the restaurant, which is almost packed to the rafters with people.
When the owner says that many fish sceptics are converted after visiting Yutaka, he's not exaggerating. "Our sushi is of really good quality. We spend a lot of time marinating the rice, and we also use more fish and vegetables than many other sushi restaurants," says Jens Peder Damgaard Jensen. He continues with a smile: "And if someone in the party really does not like sushi, then they can order a delicious ribeye or something else without fish". His claims about their good quality food seem to be supported by the reviews on various online services. For example, Yutaka Spisehus and takeaway has been at the top of the Tripadvisor list for a long time.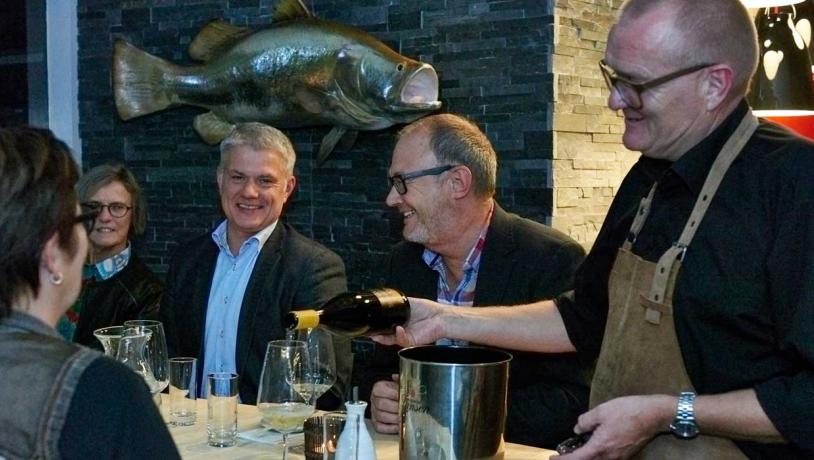 Photo:VisitHerning
"I like to eat at Yutaka with family, friends and business associates. The place is relaxed but stylish. I love how the tasty food is presented, in such a beautiful and colourful way. The service is always good and the staff are professional." – Quang, artist.
The Gate (Porten)
Right alongside the restaurant sits Yutaka's exclusive banqueting room, seating 18 people around the long champagne table. There is also a refrigerator and a fireplace in the room. The décor is rustic; with old wooden floors from Give Kirke church, and an old barn gate from a manor by Sevel as a wall decoration. All of this comes together to make it an ideal place for private gatherings, business dinners and board meetings. The room is known as The gate, in reference to the old barn gate on the wall.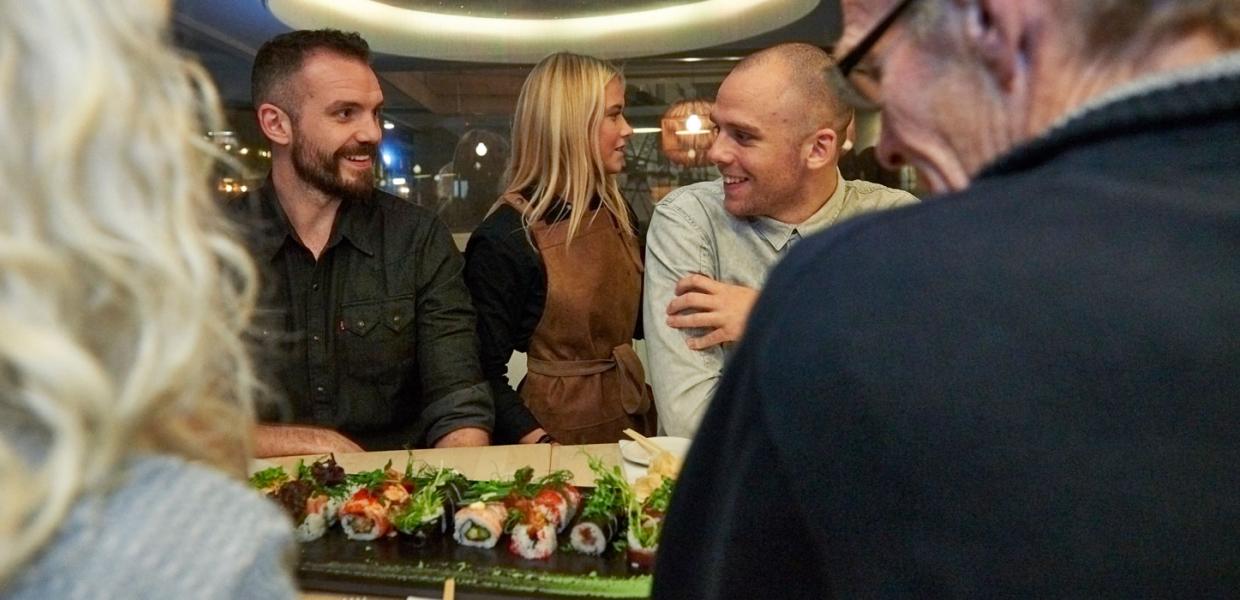 Photo:VisitHerning
Value for money 
When you dine at Yutaka, whether you are seated in Porten or in the restaurant, you can count on getting value for money. "You can easily eat and drink for 500 DKK and still leave completely full," says Jens Peder Damgaard Jensen and he goes on to say: "We have a very clear policy about fair price setting. This is also why we have price lists and a fixed, modest price per bottle of wine. It is important to us that we give people a good experience." Seats are limited, so please book in advance if you feel like an evening at Yutaka Spisehus and takeaway.