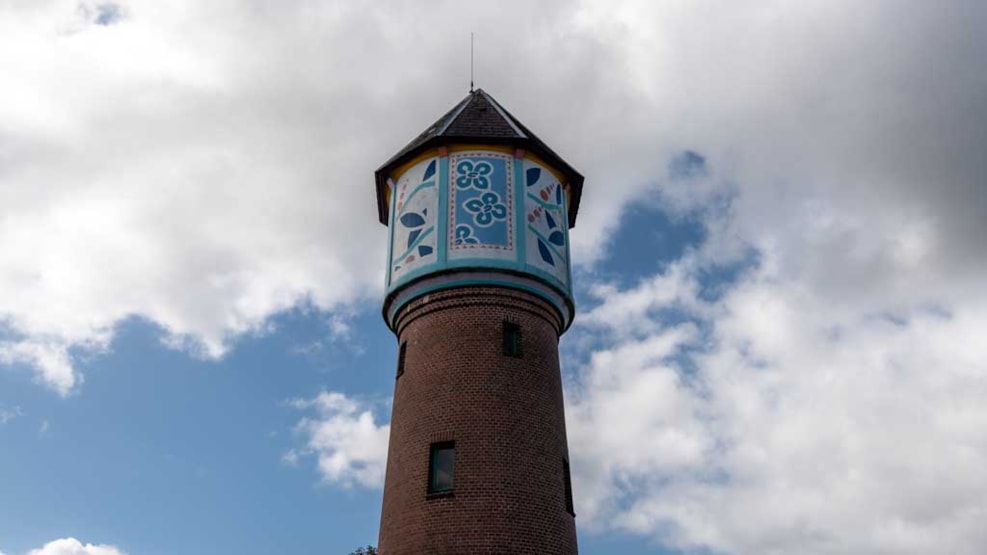 Vandtårnet (Water Tower), 1992
In 1992 the top of Brandes waterworks was decorated by professor and painter Poul Gernes. The two main motifs of the decoration represent cherry blossoms and a green plant that stretches around the top of the tower.
Poul Gernes (born 19 March 1925 at Frederiksberg, died March 22, 1996, 71 years old) was a Danish painter, graphic artist and sculptor who was born and raised at Frederiksberg in Copenhagen.
In 1949, he debuted with his first exhibition at the Artists' Autumn Exhibition.
Poul Gernes worked through the 1950s with prototypes for furniture and lamps. Around 1960 he resumed painting. In 1961, he received a scholarship from the Thorvaldsen-Eckersberg Foundation, and he started with the experimental art school, better known as Ex-school, "Eks-Skolen" together with art historian Troels Andersen.
In 1968 Poul Gernes was given the task of decorating the County Hospital of Copenhagen County in Herlev, but first started work in 1970-1976. In 1988 his famous decoration of the Palads Cinema was created.