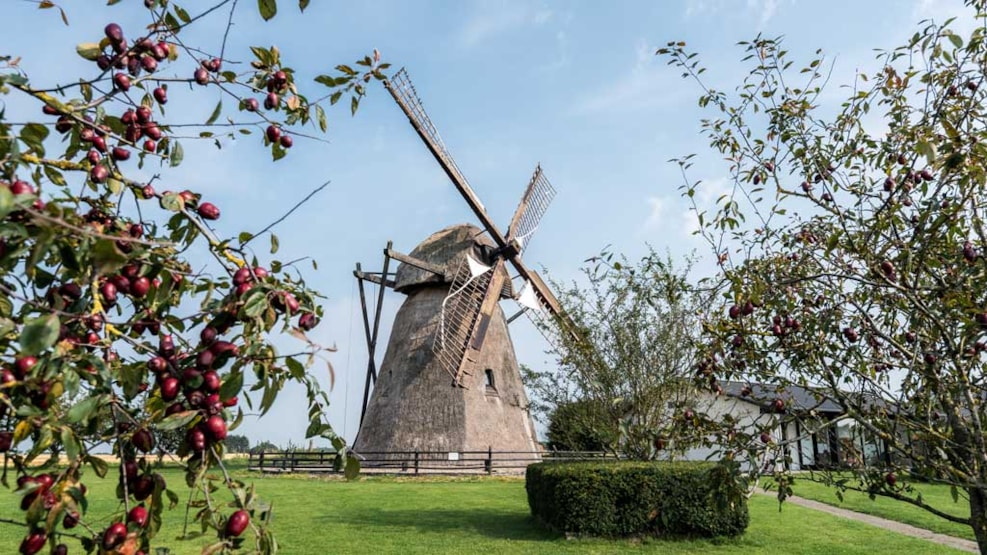 Uhre Mill
The listed Uhre Mill was built in 1843 and is quite unique in Denmark. The mill is of the type "ground sailor"; thatched on both the turret and the octagonal tower all the way down to the ground. Inside the mill, the wooden interior and equipment are almost intact, making it an interesting attraction for people with a particular historical interest.
The mill started in 1843 and it was in operation for approximately 107 years. Today, the mill is protected. Uhre Mølle, or Branduhre Mølle, stands on a hill just outside the village of Uhre, approx. 3 kilometers east of Brande. The nearby farm is the old mill farm, and the mill house has the modernized warehouse building, which is used for meetings, parties and exhibitions.
Uhre Mølle ran until around 1950, when electricity made its way into the agricultural holdings - and the storm tore the mill blades off. The mill has a board exhibition about the mill's history in an adjacent building, where you can bring your own coffee or the like indoors at tables and chairs.
The mill has been thoroughly restored and is functional. Furthermore, the full inventory has been preserved.
Entrance to the mill
The mill is open respectively on Sunday 28 August and Sunday 18 September in 2022.
It costs DKK 20 for adults and free for children - must be according to adults.
In addition, the mill can be visited by appointment.
"Pakhuset"
It is permitted to sit in the warehouse with brought food/coffee and at tables and benches outside.
It is possible to use a toilet - disabled-friendly. There are tables and chairs for 30-40 people.