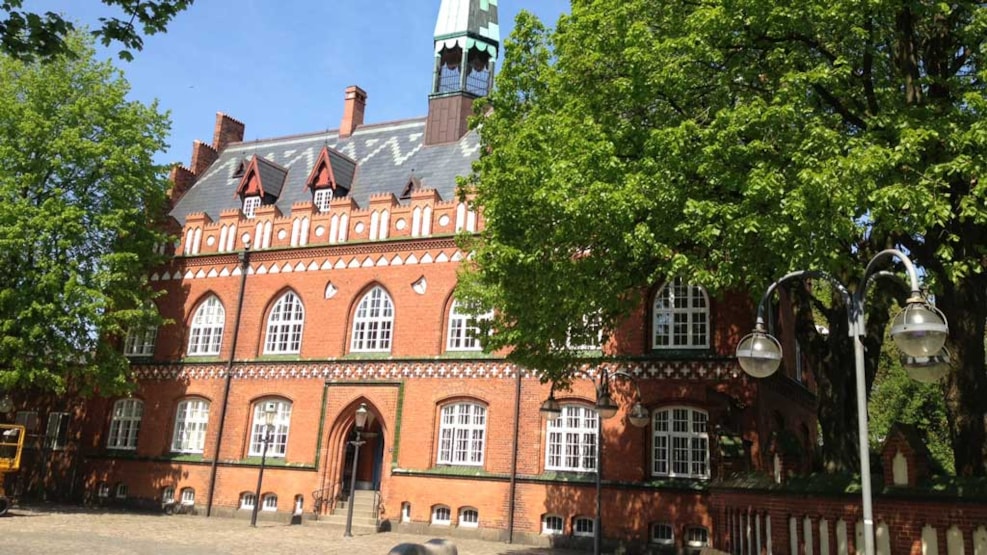 Tinghuset
The courthouse is built in Gothic style with pointed arches and jagged gables. The courthouse was completed in 1894, and it was listed in 1982.
Herning is a town that is less than 200 years old. As a town, Herning arose in the latter half of the 19th century around a road and railway junction in the extensive moorland.
However, the area was without a prison and a courthouse. Until now, Hammerum Herred's court had been held at the inn in Lund. In 1825, bailiff Christian Landt takes over. He was of the opinion that such a large area as Hammerum Herred should have a courthouse and a detention center. He had just taken over the farm Laulund on what is now Silkeborgvej in Herning. From here he sold a plot of land by a deserted country road west of Laulund, where the court and arrest house was built in 1827 at Østergade 8, where the current library in Herning is today.
However, the courthouse from 1827 was not satisfactory in the long run. Because arrestees had no difficulty in breaking out. In 1857, a new one was therefore built directly opposite the old one - at Østergade 9. However, the new courthouse quickly proved to be of poor quality, and it was quickly attacked by fungus.
The construction of the 3rd courthouse was therefore initiated on the same site as the 2nd courthouse. The 3rd and current courthouse was completed in 1894. The courthouse was listed in 1982. In the courthouse, Herning Museum also started on a small scale in 1896 with a few borrowed attic rooms, before the museum was moved to Museumsgade.