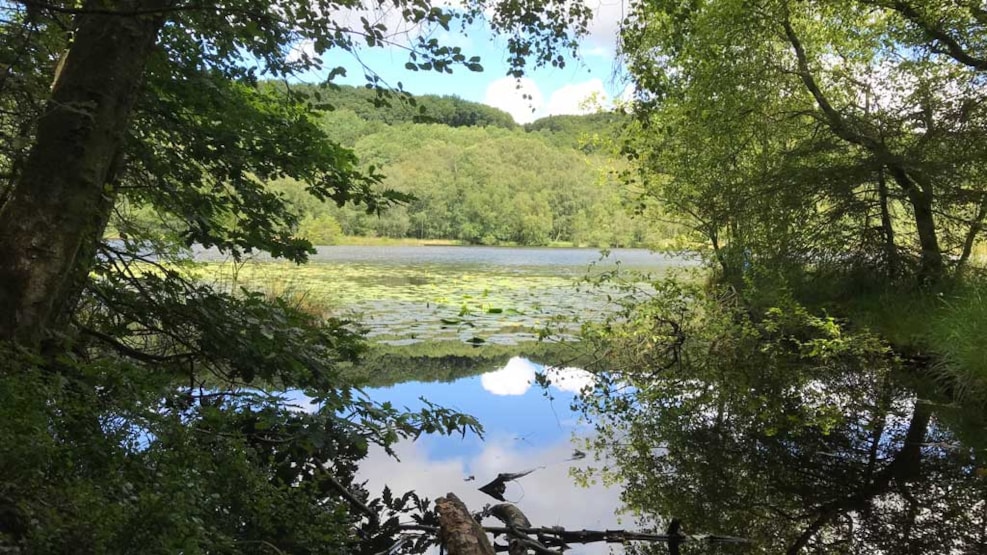 Skallerund Lake
There is an idyllic atmosphere over Skallerund Lake, like a quiet breath from a distant past, but the lake is only a few years old, measured in the scale of nature. The path around the lake is approx. 2 km. long. It is not suitable for people with reduced mobility and visits with a pram. The ridges around Skallerund Lake were formed during the ice age. The lake itself was created by peat digging in what was once called Skallerund Mose.
In 1903, Klosterlund Tørveværk began its peat excavation and production. Until 1914, peat manufacturer Emil Ernst extracted millions of peat in the bog.
Martin Anchersen, who owned the land, established a dam across the valley in 1933, creating Skallerund Lake. That same year, Martin Anchersen set up a small museum in a newly built half-timbered house. Today, the museum belongs to Klosterlund Museum.
In 2019, Ikast-Brande Municipality renovated the path around the lake. Enjoy a walk in nature and take a rest on the bench by the small museum.
Skallerund Lake has developed from a peat bog to an idyllic forest lake.
There is a dog forest just on the other side of the road by Skallerund Lake.