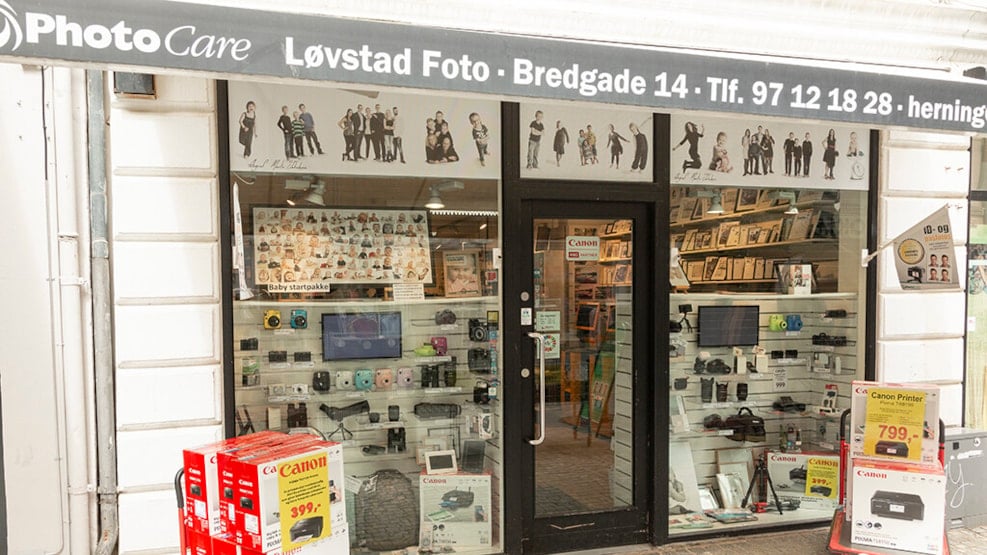 PhotoCare (Herning City)
The city's only photo shop (established in 1950) with a large selection of digital cameras and add-ons, prints of photos and documents here and now in all formats, ID photos for passport, drivers license etc. and making of portrait photos in studio. 
We have a wide selection of cameras, object glasses and accessories from Canon, Nikon, Sony, Fuji, Polaroid, Olympus, Sigma og Tamron.
Accessories like memory cards and USB sticks from Sandisk, tripods from Manfrotto/Velbon and bags/cases/backpags/suitcases from Lowepro.
ID photos for passport, drivers license etc. of kids and adults in all ages (no appointment needed). 
Photography in own studio for both business and private.
Sales, processing, print and scanning of analogue film. 
Large selection of batteries, photo albums, frames and binoculars. 
Printing of pictures and documents in all sizes from all media in a couple of minutes (by hour or day).
Printing in photographic paper, canvas, cardboard and weather-proof paper for street displays. Copying of videotapes for DVD / USB.