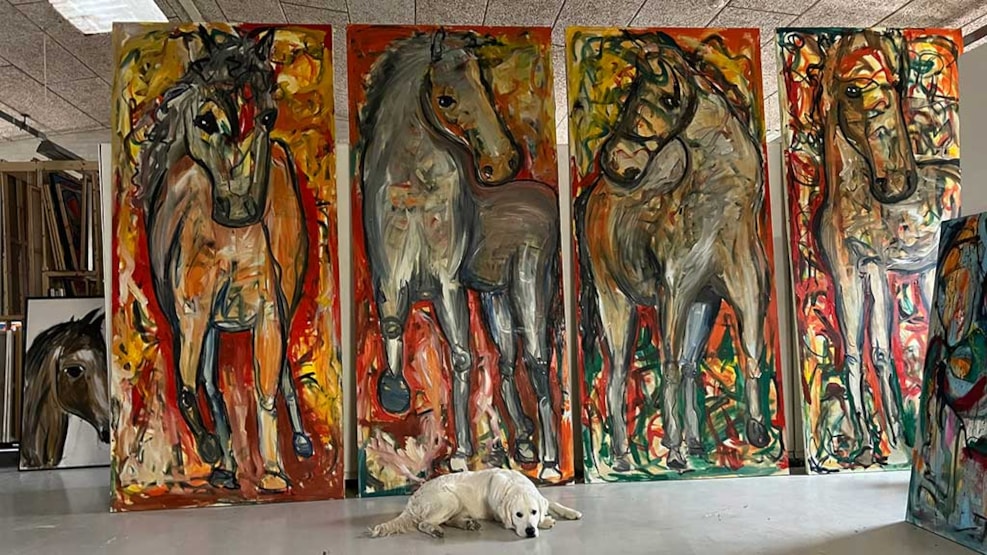 Nørgaardstudio / Galleri Nørgaard
Drop by Noergaardstudio every Sunday and discover the painted world by Jesper Nørgaard. Through the years Jesper Nørgaard has been working on many art projects and installations in the area around Herning.
Through the years, both abstract, naive, and figurative periods emerged and continues to develop in chronological and reoccurring circles.
Maybe you have met "My Odd Family" or "Green Dog Revolution" around the country? Maybe you have seen the big abstract compositions, which through the years have spread to many companies, schools, universities, and private homes. 
In his new projects "Figurerne" and "Arken" the artist has a dialog with the animals - both the ones in our local fauna, but also from the world in general. 
Stop by the gallery and workshops 800 m2 and get a feeling of the creative urge, the color joy, and the many ideas occurrence in the heart of Jutland.
The gallery is situated 4 km from the center of Herning and there is always freshly brewed coffee. Relax and be absorbed in a world of color for many hours.
Open every Sunday from 10 am to 5 pm (Open by appointment) 
In July the gallery is open every Friday, Saturday, and Sunday from 11 am to 5 pm.