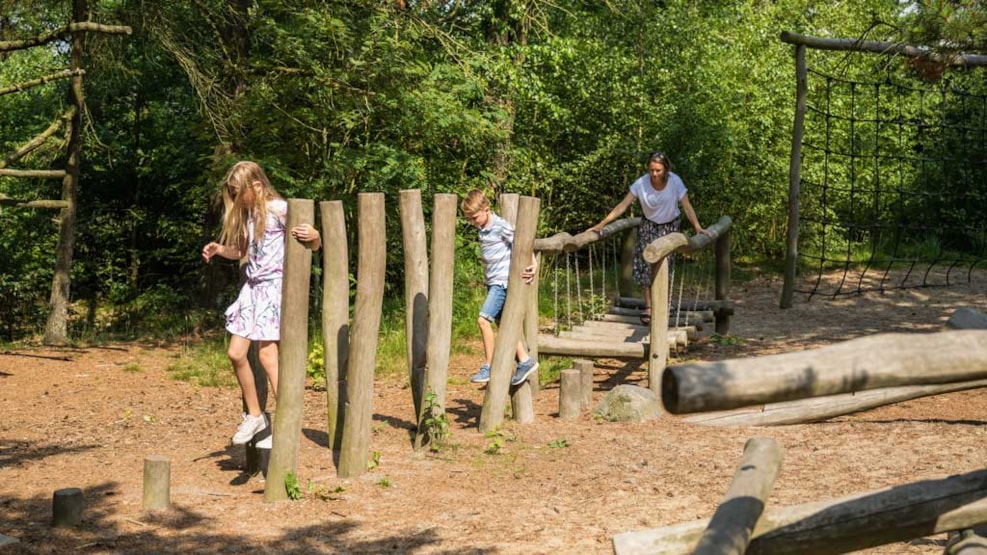 Naturlegeplads - Præstbjerg (nature playground)
The nature playground in Præstbjerg offers many possibilities and activities for everyone.
Præstbjerg Naturcenter is placed 20 km from Herning, and is a unique area with hills, meadow forest and is placed in wonderful surroundings. Also, disabled people can join a tour in Præstbjerg.
Here you will find a nature playground, nature exhibition, a shelter site, tent area with water and related handicap-toilet, tables/benches, covered lunch box houses, barbecue areas, trails for horseback riding, fixed orientation points. At the nature playground, you will find tables and benches located by the center building.
There are 4 marked routes with good vantage points along the way.
An architectural and a worth seeing building, which consists of a smaller exhibition room, a living room, and a classroom, is a natural starting point for trips around this area. The rooms can be used after appointment. 
Exhibition: Free access to the exhibition.
From April until September Præstbjerg Naturcenter is open all days from 8.00 a.m. until 9.00 p.m.
From October until March Præstbjerg Naturcenter is open all days from 9.00 a.m. until 7.00 p.m.
On the website for Præstbjerg Naturcenter you will find a calendar, from where you can see when the rooms are available, amongst other things.
App:
If you have a smartphone, there is also the option of going on a nature adventure. Download the "Nature adventure" app and you're already well on your way.
Book the shelter at Præstbjerg Naturcenter here
Should you have any problems or questions regarding booking a shelter or a classroom, please contact Herning Kommune, Natur og Grønne Områder.
parkognatur@herning.dk