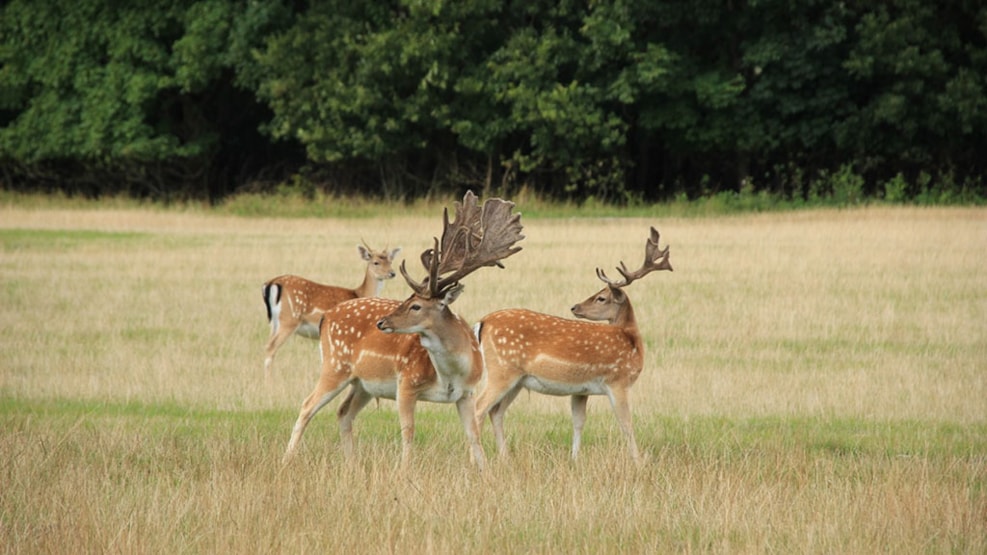 Løvbakke Dyrehave (Løvbakke Animal Park)
In the 53 hectares' animal park just outside of the town of Herning there are 50 fallow deer. You can visit the animals and enjoy the beautiful nature from the naturecentre Løvbakke Naturcenter, Løvbakkevej 32, 7400 Herning.
Among the animals you will find a mix of fallow deer, calves and wild deer. There is always something new happening with the fallow deer throughout the year; they lose their antlers, new antlers grow, calves are born, the antlers are celebrated and then, of course, there is the mating season when rutting begins. The animal park is home to a diverse range of habitats such as moors, oak forest, commons, fields and pine forest. A network of paths allow visitors to go for a walk or run around the entire animal park. What's more, there is a 1.7 km long paved path providing easy access for strollers, wheelchairs and scooters. You are more than welcome to bring your dog if it is on a lead. 
In the Løvbakke hills you will also find a wide range of family-friendly activities and facilities, like nature playgrounds, nature centre, restrooms, cabins with barbecue facilities, obstacle courses and camping grounds.
Løvbakke animal Park was inaugurated the 13th of December 2013. The deer's' that moved in came from the disused animal park in Silkeborg.
Access Rules: 
- You must keep your dog on a leash and not too close to the deer. 
- Do not feed the deer. They find their own food in the wild. 
- Stay on the trails if you are on a bicycle. 
- You are welcome both day and night.
Herning Municipality supervises the animal park, contact tel.: +45 4010 5084
There is access to the exhibition in Løvbakke Naturcenter every day at 8.00 - 21.00.