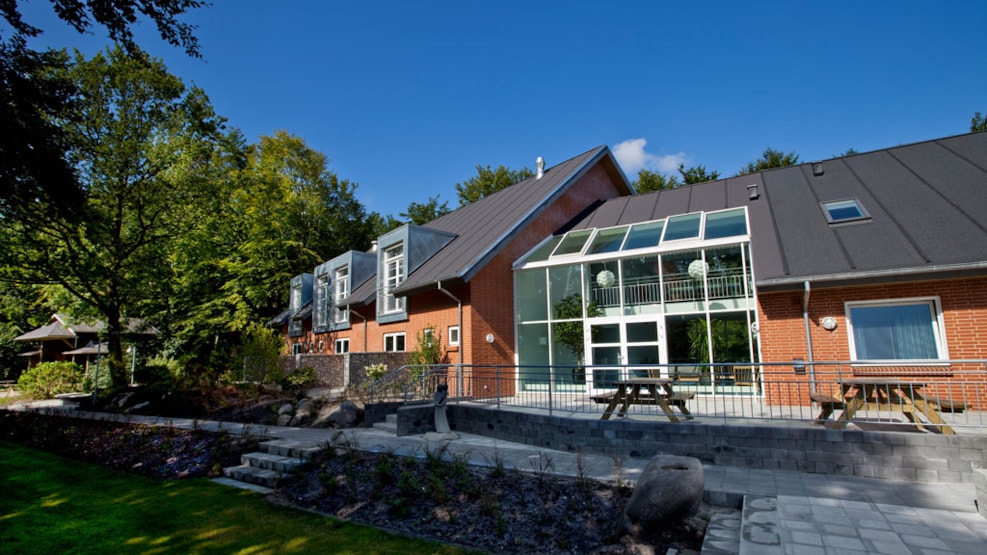 Laugesens Have, Meeting place
Seminar and conference center, located just 25 minutes from Herning, Holstebro and Ringkøbing. 
We have more than 30 years of experience with meetings, conferences and seminars.
We have 6 meeting rooms, 17 group rooms and 64 single bedrooms.
The kitchen prepares delicious, varied and healthy food – usually with local produce. Should anyone have special needs regarding their diet, we of course accommodate to this.
We offer unique possibilities for social activities. The center covers 6.500 square metres with many different areas – everything from small, cosy corners to larger common rooms, among other with 2 bar settings, as well as indoor pool, mini cinema, and a pool and table tennis room.
The center is located in a large nature park, with a unique history.
During the breaks, in the morning or evening, you can clear your head with a walk on the 1,2 km. route through the park, or perhaps with a run on the marked tracks in the nearby plantation. It is also possible to go for a swim in the indoor pool, play petanque in the park or tennis on the well-kept tennis court.
In the park you will find many cosy areas with benches, where you can enjoy nature, the singing of the birds or the whistling of the wind in the trees.
Rooms
Number of rooms: 64
64 comfortable single bedrooms, where 35 can accommodate an extra bed if needed. This makes a total of 99 beds. All rooms are equipped with a bed, bathroom with shower, as well as a TV. It is our top priority, that the room is clean, tidy and accommodated for your needs- The bed is made and towels are ready for you in the room.
Facilities
Meeting rooms: 6
6 meeting rooms with room for anywhere between 2 and 100 people.
The rooms are every flexible in their use, and we will always find a room to accommodate your needs. All rooms have a projector, whiteboard, a flip-over and tools for meetings. Two of the rooms have extra sound and microphones.
AV-equipment
All meeting rooms are equipped with projector, whiteboard and/or a blackboard, flip-over and all the necessary tools for writing. 
Wireless internet
Yes
Handicap Friendly
Yes
Parking
Free