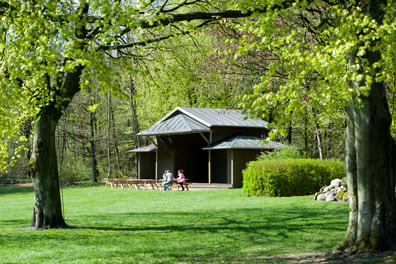 Laugesens Have (Laugesen's Garden)
Laugesens garden is a well equipped course and conference center with modern meeting rooms and 64 comfortable rooms.

The centre is placed in a 10 tds. Land big garden/ park, which is open for the public. In the park there is a outdoor scene, petanque and tennis court, cableway, fire pit and two shelters.
History:
The park was established in 1924 by Lauge Laugesen, who took over the land from his parents-in-law. He used thousands of stones from the heath cultivation for the plant of the garden, and it became one of the contemporary biggest tourist attractions in Denmark.

The park is today renovated and led back to the original in the way, it has been possible. The park is open for everyone and you are welcome to eat a packed lunch in the lovely nature and under the beech trees.

Further information:
www.laugesenshave.dk