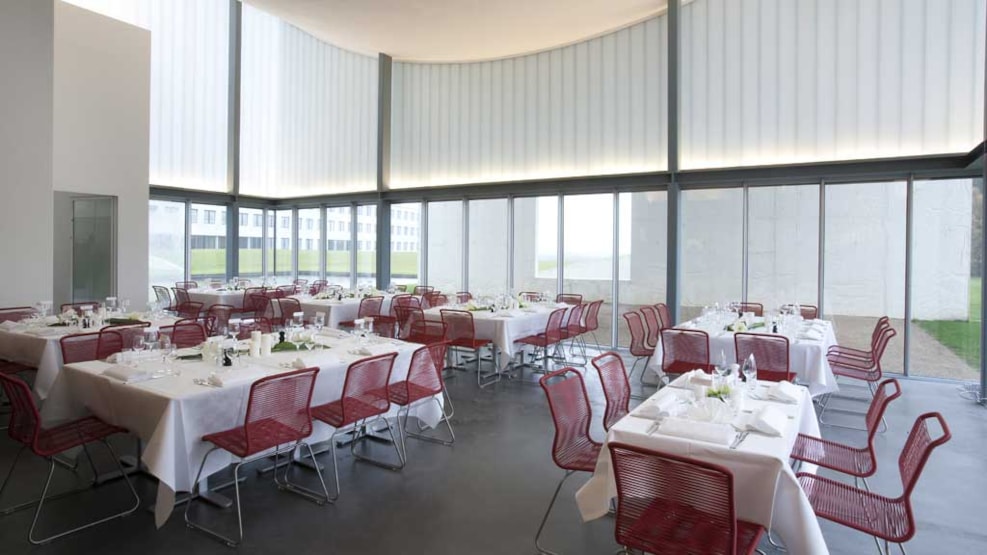 HEART - Herning Museum of Contemporary Art, Meeting place
HEART's facilities and international exhibitions creates an inspiring environment for client meetings, receptions, workshops, conferences and much more.
You can give your guests the opportunity to experience something out of the ordinary, and instead enter a place of dialogue and creativity.
Read more about the many different opportunities you can get from letting HEART host your event here.
Architecture and atmosphere that welcomes you
Steven Holl, one of the most distinguished and award-winning architects of the United States, has designed HEART. He is recognised for his ability to unite rooms and lighting in a fantastic, cohesive sensuality. As a guest at the museum, you can sense the unique and accommodating architecture and atmosphere, as soon as you enter the lobby.
Exhibitions
The exhibitions at HEART appeals to everyone who wants to find inspiration in the world of art. They are devided into three themes: HEARThistory, which displays different works of art from established national and international artists; HEARTfuture, which displays experimental, contemporary art; and HEARTdesign, which focuses on design within art.
Plan a tour as a break in your event, and find new inspiration among the spectacular works of art.
Bring the kids
HEART is ideal for events with your colleagues, where the entire family can be invited along. In the workshop, the kids can unfold themselves creatively with our professional staff. We begin with a short tour in the different sections to get inspiration from the art of the current exhibitions.
HEART Café
The gastronomical experience will make your event complete. HEART Café and its collaborators will meet all wishes for the menu, and are happy to serve you outdoors on warm days.
The terrace can easily be transformed to both a concert arena and a conference area.
Facilities
Number of rooms: 5
The concert and lecture hall has 150 seats.
The hall also features a stage with a podium with a PC. It is possible to use projector/screen, handheld microphone and wireless headsets.
The lobby has room for 200-300 standing guests.
It is possible to use the stage, podium and to rent 25 tall café tables.
The meeting room can accommodate 20 guests. It has a flip-over, projector and access to an elevator.
The workshop has room for 30 guests.
View of the park, the mirror pool, and the sculptures on the lawn.
Catering
Dining at the reception.
200-300 standing guests at the lobby.
150 guests in HEART Café.
Accommodation
There are no rooms for overnight stays.
AV-equipment
Projector, hand-held microphones and wireless headsets, podium and PCs.
Handicap friendly
Yes.
Parking
Free.