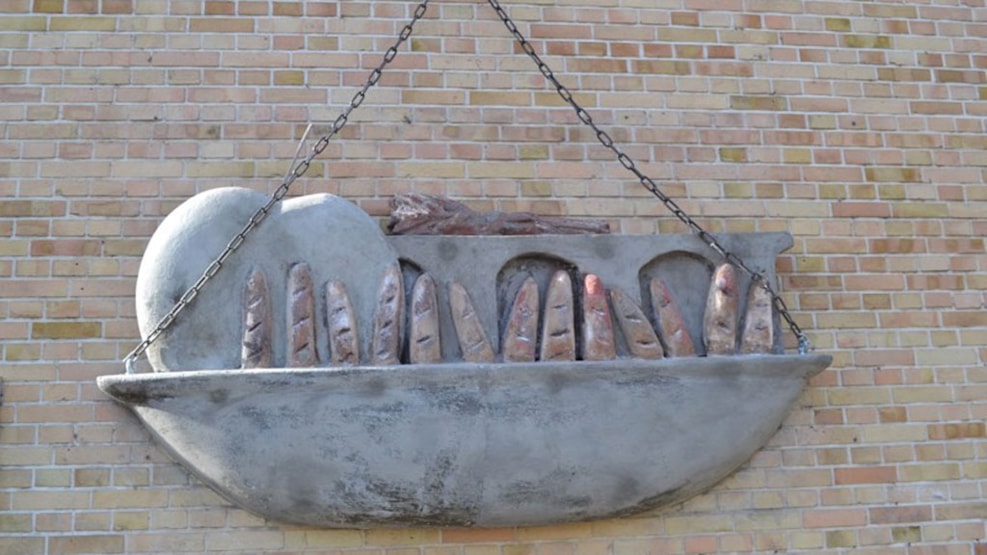 Global Goal 10 - Sinding-Ørre
Global Goal 10: Less inequality.
Artist duo: Mathias Toubro and Mathias Dyhr.
The concrete reliefs on Sinding-Ørres Midtpunkt's gable consist of two scales. They are each filled with different benefits and essential aspects of a better balanced society and world. The content of the reliefs is inspired by a workshop Mathias & Mathias held with locals from Sindig and Ørre. Here the residents were asked what they thought were the most important values ​​in their lives and what constitutes a well-functioning society for them. The local residents (ages from 5-60+) worked on a Friday evening in small groups with paper and modeling wax on various proposals. Many exciting answers came out of it: Access to water, functioning infrastructure, inclusive community and very important: the right to be heard regardless of the position from which one speaks. The different proposals have been translated into different figures that have been distributed between the two scales.
The work wants to reflect that global equality is not necessarily about having exactly the same thing. But that the world's goods can be distributed without the individual country or local area losing its distinctive character.