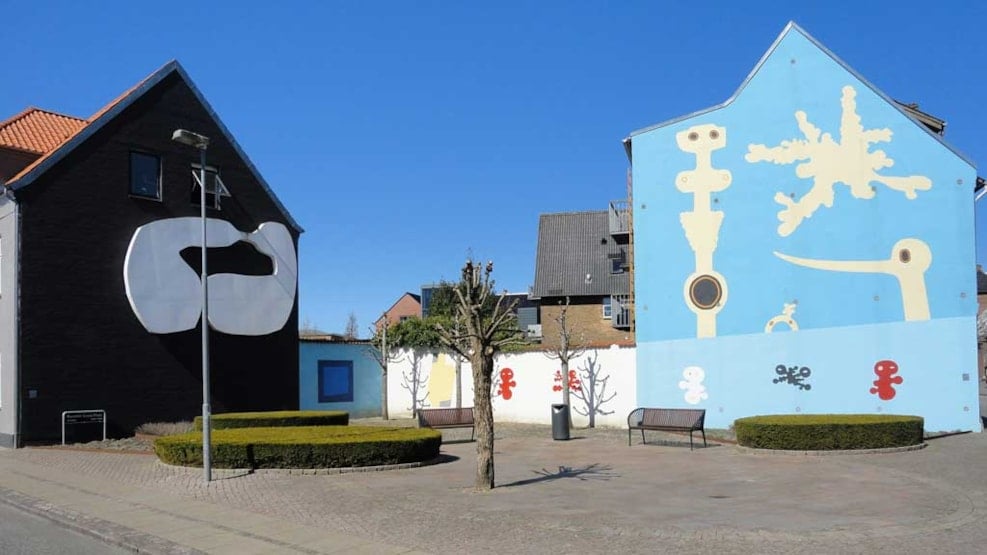 Gavlmalerierne i Brande (The Murals in Brande)
In 1968, Brande became world-famous in Denmark due to a couple of innovative residents, who initiated the painting of 23 giant, colourful murals all over the town. Several artists were invited to decorate the walls and create the fantastic artworks in the public space.
It Started A Sunny Morning
A sunny morning in 1966, the local doctor, Ole Bendix, called his good friend, the lawyer Jørgen Mansfeld-Giese: "I had a great idea last night on my way home from a delivery". The sight of the naked gables had given the doctor inspiration to the murals, and the two gentlemen hence became the initiators behind the project.
Through the local art society, A18, a dialouge began with the two artists, Anders Kirkegaard and Poul Agger. They then formed the group of artists, who consisted of themselves as well as Lejf Jepsen, Kai Führer, Henrik Flagsted, K. Bjørn Knudsen and Jens Flemming Sørensen.
The summer of 1968, it all began, and after a couple of months of hard work and creativity the result was 23 giant and colourful murals.
Art in The Public Space
The purpose of the project was to tear modern art out of the museum and art gallery atmosphere and plant it in peoples' everyday life and thereby create debate. And it did. To begin with the local population in Brande was very torn, and some even feared that the city would be made a fool of.
However, the artists quickly gained everybody's respect by doing all the hard work of preparing the gables before painting themselves. The artists  lived in modest accomodations in the old watermill and ate their daily meals in Mrs. Andersen's pension on Stationsvej.
Town of the Year
The intention was that the project was supposed to last for the summer only. However, the Danish Art Foundation soon made it clear that a guaranteed duration of minimum ten years was necessary for their economic support.
Because of the murals, Brande was in 1969 named "Town of the Year", and art in the public space has since become a characteristic for the town.
Although some of the murals unfortunately have disappeared over the years – partly because of new buildings and partly because of abrasion – Brande has still kept the reputation as being the town with the murals.
Guided Tours
If you are in the town, we highly recommend you to take a walk through the city and see the murals. At VisitHerning you can get a brochure about the murals in which you will find the full story as well as a map with the location of all the murals.