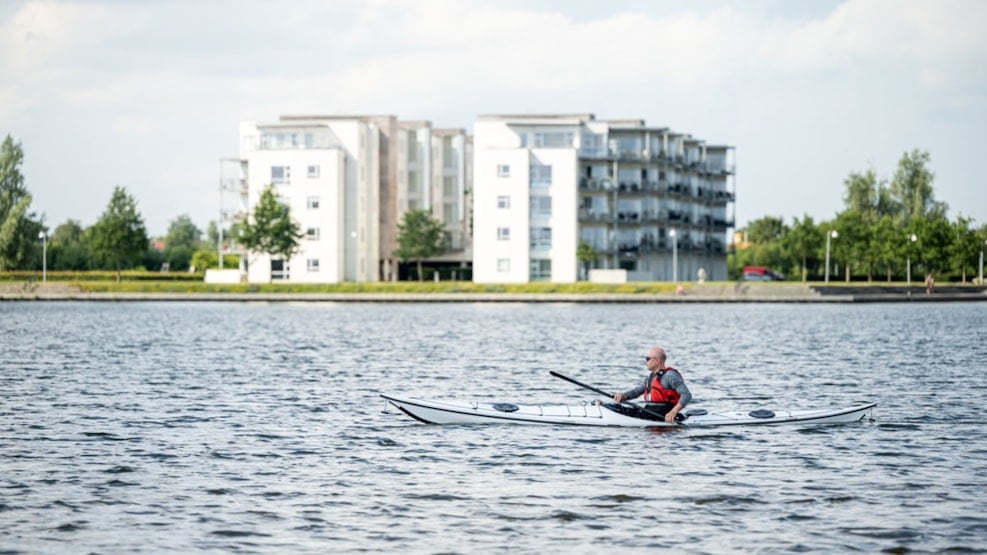 Fuglsang Lake
Fuglsang Sø is 800 m long, 450m broad and 6m at the deepest point. The area is an idyllic place for long strolls, swimming, fishing and watersports as for example rowing and windsurfing.
TEMPORARY FISHING BAN AT FUGLSANG LAKE
At certain times of the year, Fuglsang Lake is not very suitable for swimming. Especially when the water is warm, there is a risk of blue-green algae and parasites that can cause swimmer's itch.
Predatory fish such as perch and pike contribute to maintaining a natural balance in a lake by feeding on fish such as roaches, which have an adverse impact on the lake's condition.
In other words, predatory fish are beneficial for both the lake and bathing quality.
And therefore, Herning municipality are now implementing a temporary fishing ban at Fuglsang Lake.
------
Herning municipality is the landowner at Fuglsang lake. You can fish at no charge from 15 river stretches owned by the local council. The lake Fuglsang Sø is one of them. you are allowed to fish without motor when you are more than 50m from the shore.

Fishing license
Minimum size and closed seasons have to be complied. Fish under the minimum size should be released back to the water as fast as possible. The Pike is protected in April and big Pikes should wherever possible be released back to the water.

For further information: www.fvm.dk

An obligatory fishing license is required: www.fisketegn.dk


Background story
A late Friday afternoon in 2000 to employees of Herning Municipality sat and had an after-work beer. In front of them was a map with a mark up of a big artificial lake, that should be dugout.
During that Friday afternoon, the two of them made a draft for a lake, leisure landscape, harbor front and space for 500 homes. Fuglesang lake was born. The digging started in 2003-2005, and the lake was open in 2006.