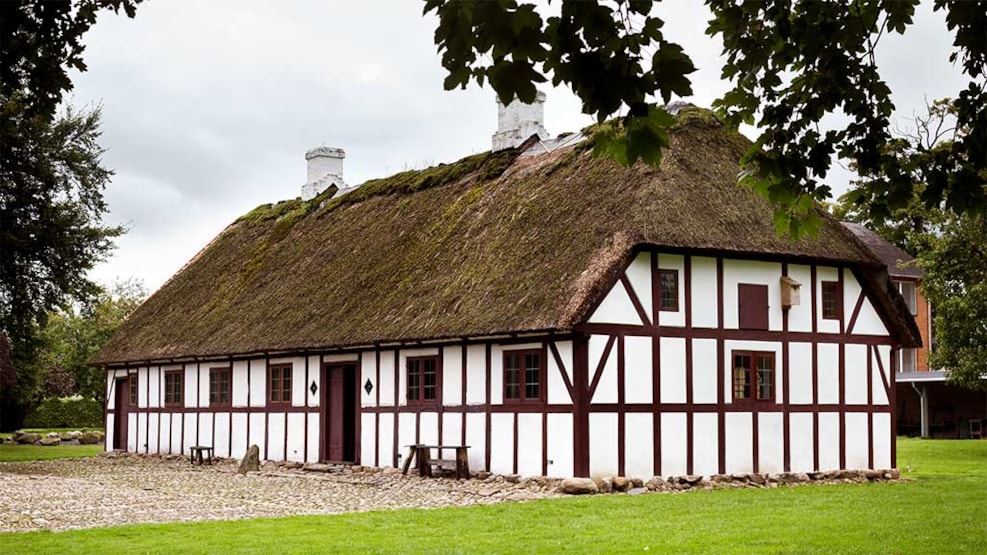 Frilandsmuseet (Open-Air Museum)
Just a few minutes within walking distance from the main street of Herning, you can step 200 years back in history. Frilandsmuseet Herning offers an authentic, old fashioned village atmosphere, as it portrays the farming life of the 1800's heath landscape in Central Jutland.
Life on the heaths of Central and West Jutland
Frilandsmuseet Herning provides a unique opportunity to experience life in the countryside on the heaths of West and Central Jutland, as it was lived in the 1800s. Between the old fruit trees, you can move in and out between the old farming environment, where volunteers every Thursday forges iron, tends to the garden, farms honey and maintain the old buildings, using old techniques.
Indoors, you will find our "Occupation Apartment", portraying life in an apartment during the German occupation of Denmark between 1940-1945, as well as the exhibition of the folklorist Evald Tang Kristensen. You can also go on an adventure in Jens Nielsen's Farm, which is one of the museum's most popular attractions – especially for children. Here, more than 100 different zograscopes show the daily life all year round on a farm in the early 1900s.
At Frilandsmuseet, you can experience a comprehensive sound installation - a so-called soundscape. The soundscape is installed in the old farmhouse. Here, the museum's guests can experience a complete and authentic sound experience of a heath peasant family's everyday life in the latter half of the 19th century.
Museum Midtjylland
Frilandsmuseet is part of Museum Midtjylland, which consists of four cultural history museums that each tell a part of the history of Central Jutland. Both the history that dates back thousands of years and the history that is still alive in memories, people, and craftsmanship. Stop by to discover the history and stories, and experience Central Jutland, as it was before, now, and tomorrow. 
You can read more about the different activities, exhibitions, and the many different events and experiences at museummidtjylland.dk