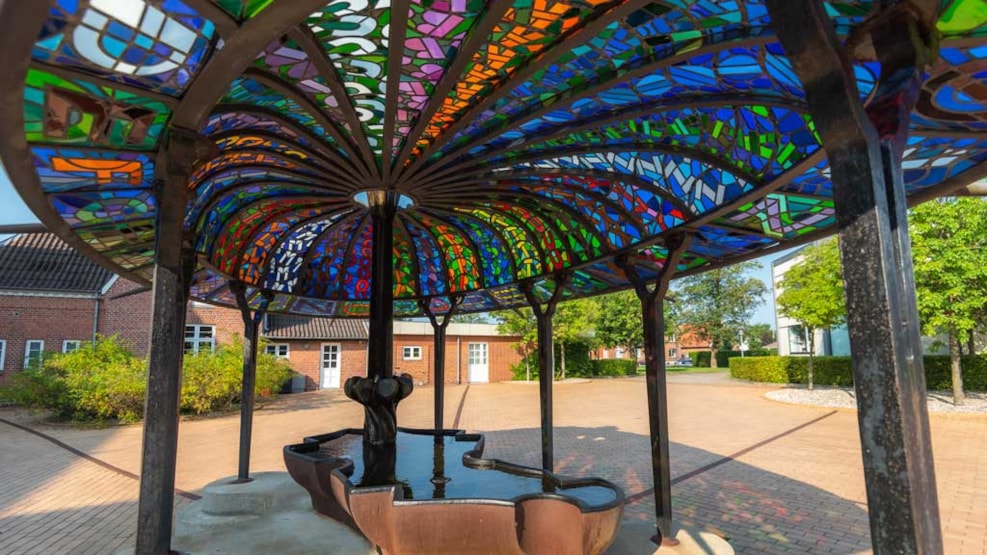 The Eye of Odin
In the middle of the court at Brande Folk School, you will find The Eye of Odin – a beautiful water sculpture in glass mosaic created by the renowned Danish artist, Bjørn Nørgaard. The sculpture creates its own small universe and is most definitely worth a visit.
A Coloured Alphabet
In the middle of the sculpture, you will find water running, and above this, the sculpture spreads like an umbrella with the most beautiful glass mosaic in bright colours, even more stunning in bright sunshine. In every section of the umbrella, Bjørn Nørgaard has created letters in glass and together all the sections thereby create the Danish alphabet.
A Sculpture with Meaning
For the sculpture, Bjørn Nørgaard has found inspiration in the Norse mythology, in which the supreme god, Odin, sacrifices one of his eyes at MÍmer's Well in order to drink of the water of wisdom. The sculpture is also very place specific and carries a very special meaning for the folk school, being a school where dyslexic individuals are given additional vocational and educational skills.
Come visit Brand and experience The Eye of Odin.