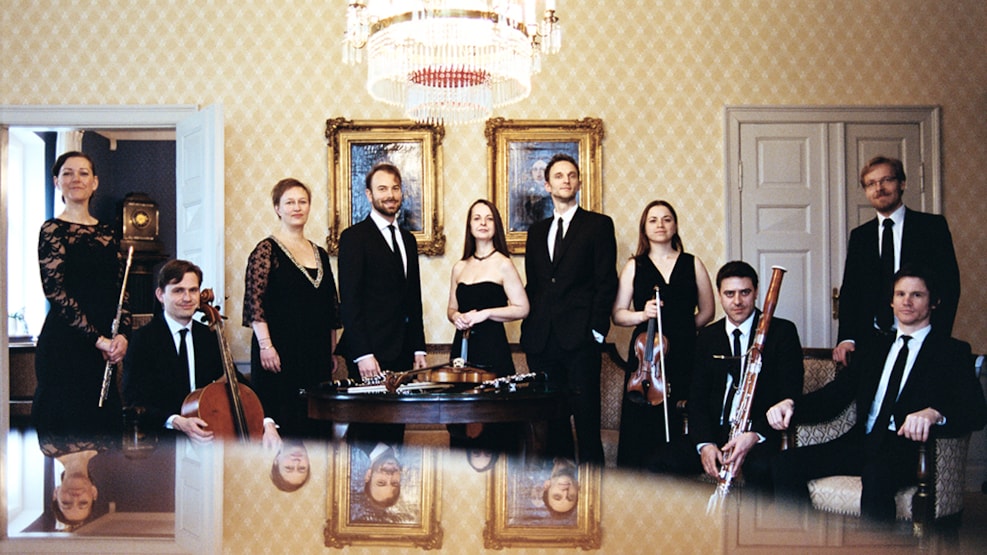 Ensemble MidtVest
Ensemble Midtvest brings together eleven award-winning musicians from around the globe to form a dynamic, versatile and highly accomplished ensemble performing a huge range of music.
Founded in 2002, EMV is formed of a string quartet, wind quintet and pianist, renowned for its creative programming and consistently high level of performance The combination of instrumentalists enables a unique freedom of artistic programming and enormous expressive possibilities that have earned the ensemble high praise from audiences and critics alike.
The individual members of the ensemble include former BBC New Generation Artists, winners of international competitions such as the Melbourne International String Quartet Competition and as of October 2015, clarinettist Tommaso Lonquich has become a member of the CMS TWO program at the Lincoln Center Chamber Music Society in New York.
Ensemble MidtVest is based in Herning, Denmark, at HEART - Herning Museum of Contemporary Art - an extraordinary venue designed by American architect Steven Holl. The museum houses the ensemble's own chamber music hall and rehearsal spaces.
Ensemble MidtVest performs more than 80 concerts every year in Denmark and abroad, including appearances in Sweden, Norway, Germany, Poland, Italy, Great Britain, Greece and the USA. In 2012 and 2014 Ensemble MidtVest performed at Carnegie Hall in New York; a return visit is planned for March 2016. The 2014 residency in New York City included a workshop at The Juilliard School of Music and a fully improvised concert.
In Europe, Ensemble MidtVest has appeared at Musikfestspiele Mecklenburg-Vorpommern (Germany), ULTIMA - Oslo Contemporary Music Festival, PROBALTICA in Toruń (Poland), The International Festival of the Aegean at the island of Syros (Greece), 'Sounds New' Contemporary Music Festival in Canterbury (Great Britain), and the Vale of Glamorgan Festival (Wales, Great Britain), as "ensemble in residence" in 2012. In March 2015, Ensemble MidtVest made its debut at Kings Place in London and in 2016 the ensemble will make debut performances in Toronto and Elmau Castle in Germany. 
Ensemble MidtVest has performed with such renowned guest musicians as clarinettists Martin Fröst and Johannes Peitz, cellists Thorleif Thedéen and Christoph Richter, pianist Alexander Lonquich, soprano Charistina Landshamer, bandoneon player Per Arne Glorvigen, baroque violinist Bjarte Eike, the Alcan String Quartet and Swedish jazz musician Lars Jansson and his trio, with whom Ensemble MidtVest released the CD 'Worship of Self' in 2008.
EMV has also enjoyed fruitful collaborations with master teachers such as Ferenc Rados, Charles Neidich, Eduard Brunner, Johannes Peitz, Gordon Hunt, and Tim Frederiksen. Since 2014, the highly-acclaimed bassoon player Sergio Azzolini has been associated as an Artistic Advisor for Ensemble MidtVest, focusing particularly on early classical music.
In addition to classical chamber music, Ensemble MidtVest frequently works with improvisation, creating its own sound and musical language, breaking down barriers between musical styles and genres and expanding the performers' musical intuition and individuality. Assisting in this process, world-renowned Danish jazz pianist Carsten Dahl was appointed the ensemble's first Artistic Advisor in 2007. Among the many productions developed under his guidance are two silent film performances with improvised music: Alfred Hitchcock's 'The Manxman' (2008) and Fritz Lang's 'Metropolis' (2007/08), the latter with soprano Tina Kiberg. Excerpts of the ensemble's music to 'Metropolis' have been published by the Danish record label ExLibris, a CD that in November 2011 was nominated for a Danish Music Award.
Among Ensemble MidtVest's extensive further discography, its 2006 recording of piano quartets by Mozart and Brahms was awarded the prize for best chamber music CD of the year by the listeners of the Danish Broadcasting Company. Since then the ensemble has published eight further discs of music by Carl Nielsen and Francis Poulenc (CPO), Vagn Holmboe and Jørgen Jersild (Dacapo). In 2015, the first of five CDs of chamber music by Niels W. Gade was published on the CPO label; several works of this set have been recorded in collaboration with the Danish String Quartet.
The classically trained oboist Henrik Goldschmidt, a leading expert on the music of the Middle East, served as an Artistic Advisor to the ensemble from 2008 to 2010. Under his guidance, Ensemble MidtVest has performed and broadcast extensively with renowned Jewish and Arab musicians from 'The Middle East Peace Orchestra'.
The ensemble has also collaborated with a wide range of Danish pop musicians such as Steffen Brandt, Teitur, Dicte, Tobias Trier and Tina Dickow. Moreover, the ensemble has worked with among others the artist Das Beckwerk, the Greek/Italian sculptor Jannis Kounellis, the actresses Malene Schwartz and Vigga Bro, the New Circus artist Samuel Gustavsson, lighting designer Jesper Kongshaug, and fashion designer Henrik Vibskov. Furthermore, the ensemble has collaborated a number of times with the groundbreaking and internationally recognised Odin Theatre, performing, among other works, Frans Winther's opera 'Ezra' at the Royal Opera in Copenhagen in 2008 and 'Don Giovanni all'inferno' at the Ravenna Festival in Italy in 2006.
Ensemble MidtVest is supported financially by the Danish Arts Foundation and by the four Municipalities of Herning, Holstebro, Ikast-Brande, and Struer. Additionally, the ensemble collaborates closely with several sponsors.
The Society of Friends of the Ensemble MidtVest is generously supporting the publication of the 5 CDs of chamber music by Niels W. Gade in 2015-2017.
In 2014-2016, all Ensemble MidtVest's international activities are comprehensively supported by the Knud Højgaard Foundation.