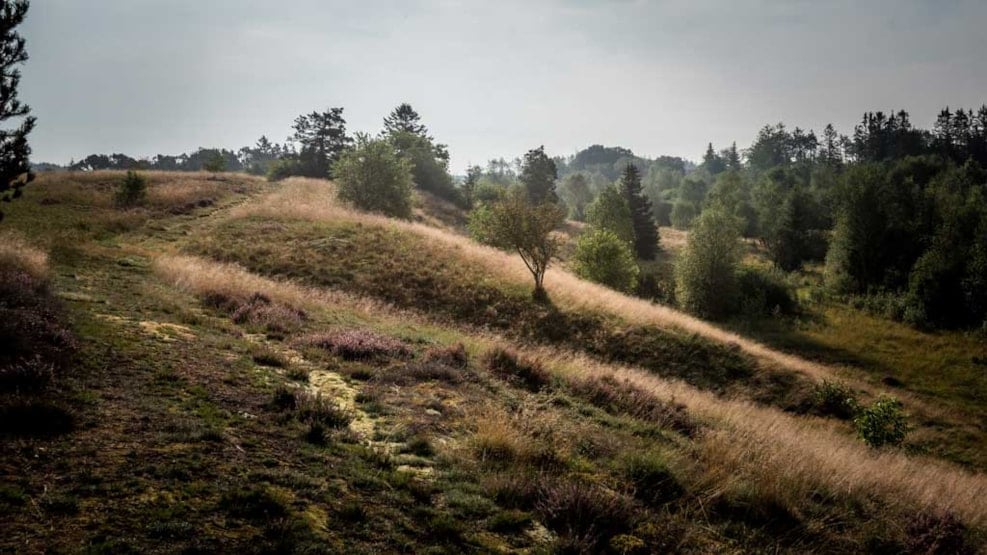 The camp and shelter site, Harrild Hede
The camp and shelter site consists of 5 shelters and is located in scenic surroundings near heath and river. Trees shield the site from the wind and the view over the heath and stream is stunning. The site has a large fire ring with tables and benches and a minor fire ring next to the shelters.
Near the shelter site are several marked hiking trails. Two of the trails are accessible to persons with reduced mobility. Fishing areas for persons with reduced mobility are available along Holtum River east of Harrild Heath Nature Centre (Naturcenter Harrild Hede).
The site is located around 300 meters from Harrild Heath Nature Centre where you find access to handicap-friendly toilets, a roofed lunch area and a grill. You find the tap for water in the Nature room next to the grill. Toilets are always available, but the water supply in the Nature room is closed in wintertime due to risk of frost. The 5 shelters accommodate up to 30 adults. Booking is required and costs 600 DKK per night. Book Harrild Heath Nature Centre shelter site by e-mail to harrildhede@nst.dk  and indicate name, time of arrival and departure, number of adults and children and invoicing address.