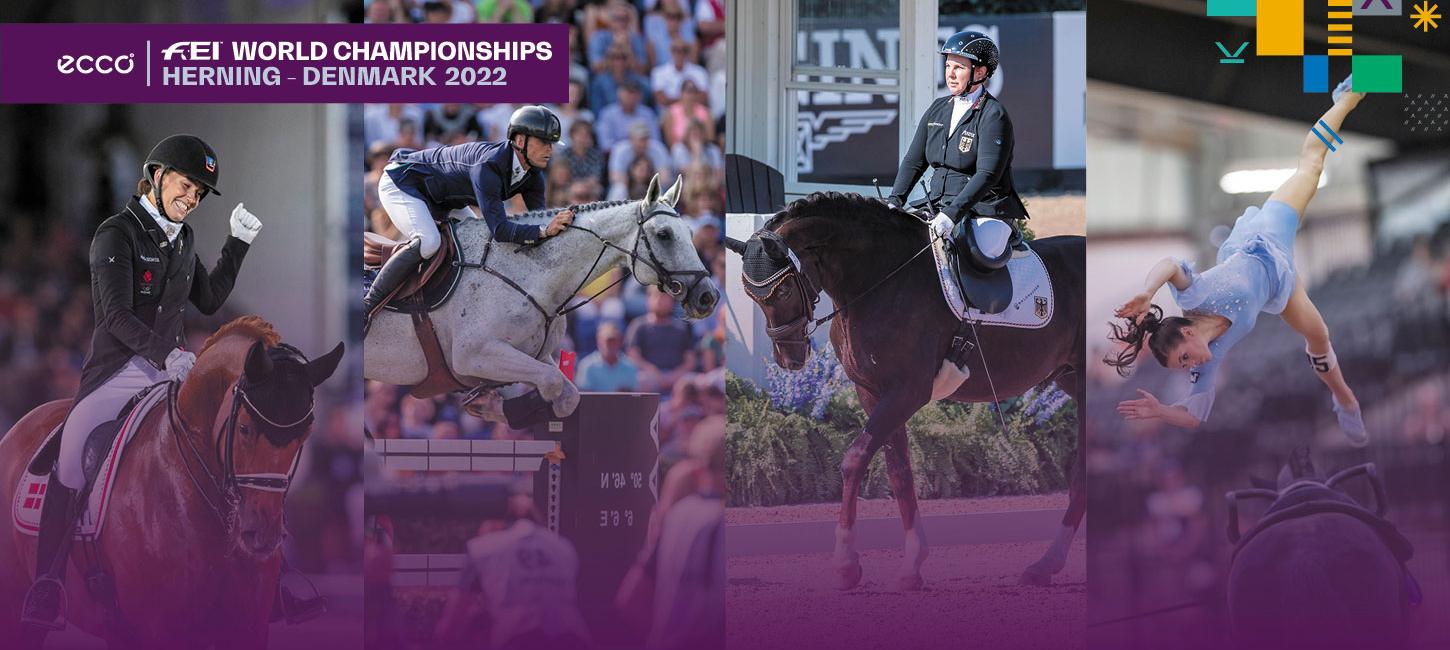 ECCO FEI World Championships Herning - Denmark 2022
Photo:
VM i ridesport 2022
The World Championships in Jumping, Dressage, Para Dressage and Vaulting will be held in Herning from August 6th to August 14th 2022. Herning2022 will be the greatest equestrian event in Denmark ever!
The right spirit
Have a sneak-peak of what you can look forward to in the video below. 
Experience the world's elite when the city of Herning hosts the biggest equestrian event in 2022. From August 6th – August 14th 2022, the city of Herning is transformed into a true Mecca for equestrians when the world's best riders and horses visit the city for 10 days.
ECCO FEI World Championships Herning – Denmark 2022 will be the biggest equestrian event on Danish soil and will welcome around 550 athletes from around 70 nations. Furthermore, 200.000 visitors of which 40% come from foreign countries, are expected to visit the big event.
The event will take place in the facilities of MCH Messecenter Herning.
Venue map
Have a look at the venue map, where you can see the arenas, exhibition area, stables etc.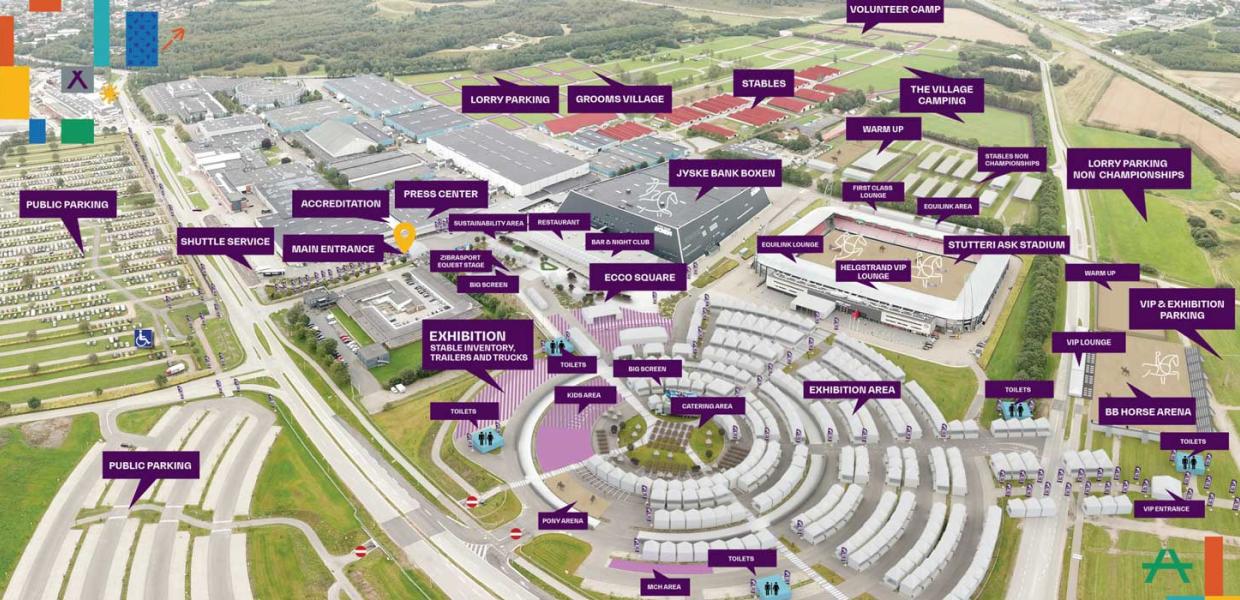 Photo:Hest2022
At the venue you will find:
11 arenas, with 3 main arenas
- Stutteri Ask Stadium
- BB Horse Arena
- Jyske Bank Boxen
Hospitality and restaurants
- 3 VIP Restaurants
- 3 Public Restaurants
- 8 Sponsor Lounges / Skye Boxes
Location
MCH Arena (Stutteri Ask Stadium)
Kaj Zartows Vej 5,
7400 DK-Herning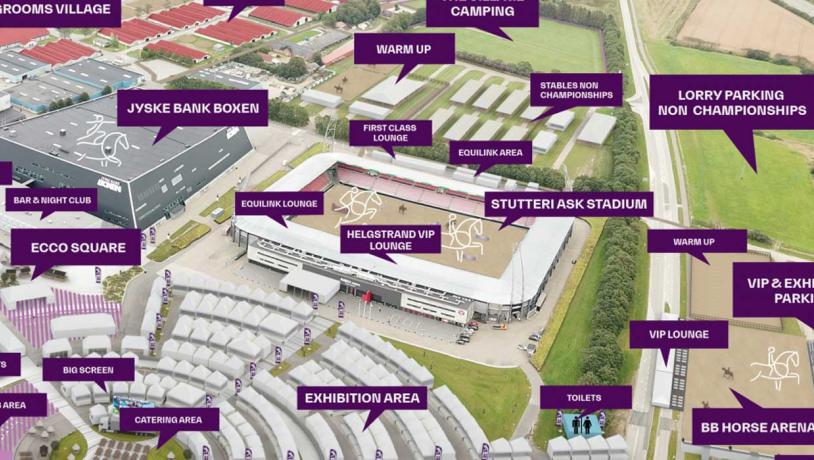 STUTTERI ASK STADIUM
The World Championships for Jumping and Dressage will be held at the football stadium, MCH Arena (at the occasion called Stutteri Ask Stadium) with a capacity of 10,000 seated guests and a big VIP-lounge.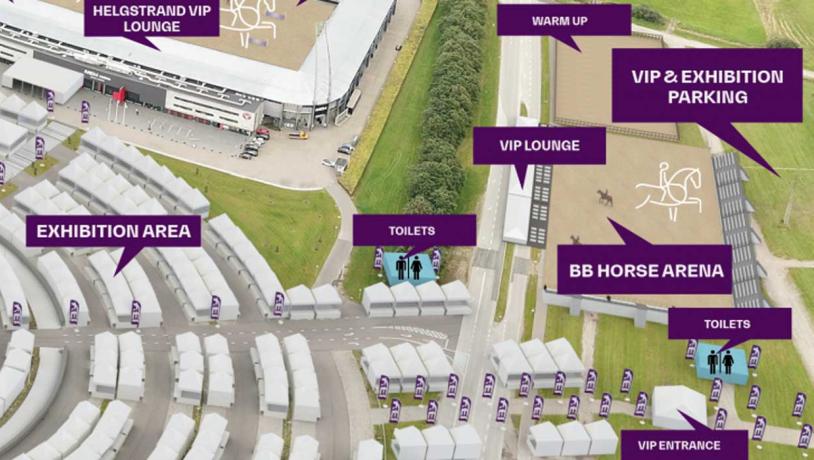 BB HORSE ARENA
For the Para Dressage, a new stadium will be built from scratch for the occasion. The stadium will be placed so the athletes experience a more quiet and intimate atmosphere.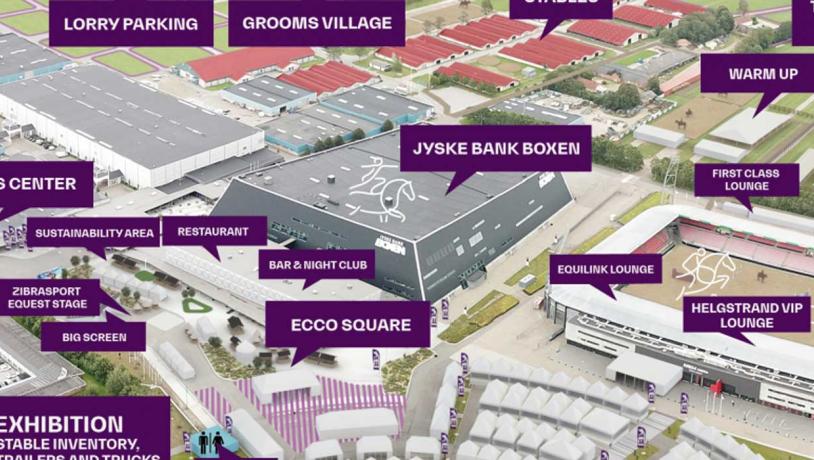 JYSKE BANK BOXEN
In the arena of Jyske Bank Boxen, the spectators will get an electrifying experience, when the World Championship in Vaulting will kick off. Vaulting is best described as acrobatic exercises on a horse. Women, men and mixed groups of vaulters will fascinate the spectators when performing outstanding vaulting exercises such as artistic mounts and dismounts while the horse is guided on a long rein by a lunger standing on the ground to ensure a steady canter.
Show Night presented by Mustang Trailers
Get an extraordinary experience, when the Show Night presented by Mustang Trailers takes place in Herning on August 13th, 2022. It will be an evening to remember as we welcome you to an enchanting and spectacular show with some of the world's best equestrian performers.
Street food, music and horse fun
During the World Championships, Herning City will be full of great events and activities for everyone. In the town square, you can experience a food mecca, outdoor 'hygge' and festivities at the Street Food Festival.
Herning is ready for a folk festival
Look forward to many great events in the city center during ECCO FEI World Championships Herning - Denmark 2022. Here are some examples: Live music, Street Food, Yoga, Theatre concert, stand-up, beer tasting, crazy cops on horses (theatre in the streets) etc. 
Eat and drink
Enjoy a delicious lunch or dinner at the ECCO FEI World Championships site at MCH or go to the center of Herning where you will find a broad selection of cafées and restaurants in Herning City and herningCentret.  
Explore Herning
Have a look at the area surrounding MCH. Here is a lot to see and experience. Herning offers many great experiences both within art, culture, history and nature.
#herning2022 #visitherning
Use the hashtags and share your experiences with the rest of the world.